45 Healthy Road Trip Snacks for Kids & Toddlers
This post contains affiliate links. If you click & make a purchase, I receive a commission! Thanks! Read my full disclosure policy. As an Amazon Associate I earn from qualifying purchases.
Road trips are fun, but they can also be stressful. As a mom (or dad), you have to pack all your gear for vacation plus snacks and food for the trip. Not to mention the great art of keeping your kids happy during the drive. It can be hard enough just getting toddlers especially out the door for a grocery shopping trip, let alone a long car ride. Here are some of my favorite healthy road trip snacks for kids!
What You'll Need
If you are going on a long road trip with your family, packing some cold and refrigerated snacks is a great way to offer fresh and healthy snacks all day long. While you can get by on non-refrigerated snacks for shorter time periods, packing a cooler can be especially helpful for longer days or if you are packing lunch as well.
Here are some of the things we find helpful when packing travel food for our toddlers:
Road Trip Snacks for Kids
These kid's road trip snacks can work as travel food ideas for older kids or toddlers. Packing your own snacks and food will not only help you eat healthier on the road, but save you time along the road since you will not have to buy food as often.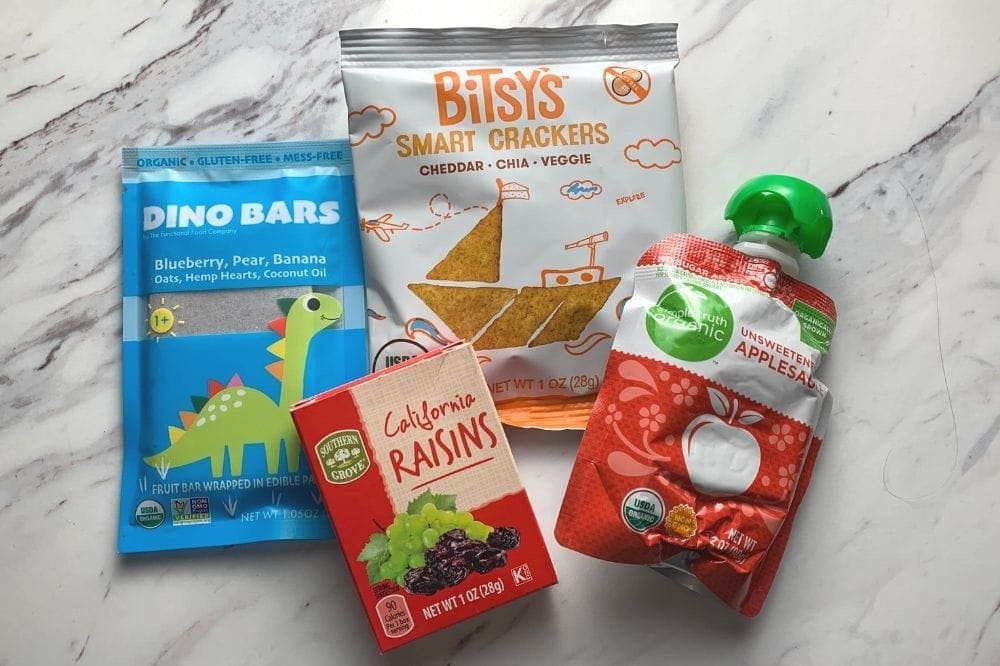 Healthy Non-Refrigerated Packaged Snacks
First, we'll start off with some of the best non-refrigerated snacks to bring. Many of these include healthy packaged snacks for toddlers.
Dino Bars (great texture for younger toddlers as well)
Larabars – Be careful with child's age as some do contain larger pieces of nuts.
Chewy Honey Oat Kid Kind Bars – At 5g added sugar these are higher than I usually serve my kids, but they are a fun road trip treat and something different for older kids.
Triscuits (check out my other favorite crackers for toddlers here)
Bitsy Brain Food Crackers – Opt for Cheddar Chia flavor for a low sugar option.
Simple Mills Almond Crackers
Annie's Whole Wheat Bunnies
Snap Pea Crisps
Unsweetened Applesauce or fruit pouches
Cheerios
Raisins
Freeze-Dried Fruit
Peanut Butter (for spreading on crackers, produce, etc)
Refrigerated Packaged Snacks for Travel
If you are packing a cooler and ice or ice packs, it opens your options up a lot more for snacks you can pack especially by allowing you to pack a larger variety of protein and produce.
Stoneyfield Yogurt Pouches – While I typically buy unsweetened yogurt and sweeten it at home, these are great for travel. They do contain 4g added sugar so I do not recommend below age 2.
Babybel Cheese or Cheese Sticks
Guacamole
Hummus
Cottage Cheese Singles
Road Trip Snacks to Make
If you have some extra time to do some baking of food prep, here are some of my favorite homemade road trip snacks. It is always nice to have something homemade when you are going to be away from home for a while. These healthy recipes are perfect for kids of any age and even for adults!
Toddler-Friendly Overnight Oats – Can make a great breakfast or snack if you have a cooler.
Homemade Trail Mix – Just ensure it is age-appropriate for your children (ie no large whole nuts for toddlers)
Produce to Pack for Road Trips Snacks
With produce be sure to cut appropriately given the age of your child. Here are some options to consider prepping and packing. I like to prep my produce and then pack in stasher bags for travel.
Grapes – Cut in half or quarters for toddlers age 4 and below.
Berries – Blueberries, Strawberries, Raspberries
Bananas – No prep needed!
Apple Slices – Can be a choking hazard to young toddlers. Follow guidelines.
Small carrot sticks
Cucumber sticks
Pepper sticks
Roasted veggies – It takes a bit more prep, but I have certainly cut up and roasted sweet potatoes, carrots, broccoli, and other veggies before road trips, especially when my kids were babies and I needed healthy baby led weaning lunch options.
Road Trip Breakfast & Lunch Ideas to Pack for Kids
There are so many great options for road trip meals for kids as well. My personal favorite is to pack healthy sandwiches, fruits, vegetables and snacks that the whole family can enjoy and make a meal out of.
Here are a few of my favorite breakfast and lunch ideas to pack for a road trip:
Yogurt
PB & J Sandwiches – I prefer to buy Crofters Just Fruit spread
Ham Roll-Ups (cream cheese middle)
Crackers with cheese or peanut butter
Chicken Salad
Fruit Salad
Carrot Sticks with Peanut Butter
Here are some of my favorite Healthy Toddler Lunch Ideas including packable ideas that may work for your road trip!
Tips for Packing Healthy Road Trip Snacks for Kids
Here are a few of my favorite tips to make packing road trip snacks for your little ones a bit easier and go a bit smoother.
Start by making a list of all the snacks you plan to take and then create your grocery list.
Pack more than you think you will need. It never hurts to have extra! You never know when you will end up needing to eat lunch late or even have an unexpected picnic. We have gone on many trips to National Parks or other rural areas where we ended up further than expected from restaurants and were grateful for our car stash!
Pack healthy snacks and lunch for kids and toddlers in separate baggies or containers so you can pass them out quickly when you stop.
Pack plenty of paper plates, napkins, spare baggies, trash bags, and eating utensils – you never know what you will need when you are traveling and eating on the go.
Don't forget to consider choking hazards and appropriate safety measures if you are allowing your children to eat in the car. For example, we do try to pull over to eat at a picnic table, but sometimes this isn't an option. I usually only feed my kids in the car once they are older and with low-risk foods depending on their age.
Don't forget to pack easy snacks for yourself and your spouse! Adults need plenty to eat on long trips as well.
Bring extra water to use to refill their water bottles.
Need More Snack & Meal Ideas for Your Toddlers?
Healthy Packaged Snacks for Toddlers