35+ EASY Toddler Lunch Ideas {Mix & Match}
These healthy and easy toddler lunch ideas are perfect even for picky toddlers. Use this list as inspiration to easily build a toddler lunch every day without feeling overwhelmed. Plus, these ideas will even work for older kids (and moms or dads!)
This post contains affiliate links. If you click & make a purchase, I receive a commission! Thanks! Read my full disclosure policy. As an Amazon Associate I earn from qualifying purchases.
What a Healthy Toddler Lunch Includes
1. A Balance of Macronutrients
Protein – Including a protein source in your toddler's breakfast will help keep them full and satisfied. Meat, eggs, beans, yogurt, and nut butter are all great ways to work protein into lunch for toddlers.
Complex Carbohydrates – Your toddler needs complex carbohydrates to fuel their growing muscles and active brain. These are found in fruits, starchy vegetables (squash, potatoes, peas, and corn), and even whole grains provide energy.
Fat – Fat is very important for toddlers' and babies' brain development. Grass-fed butter, avocado, full-fat yogurt, olive oil, ground flax seeds, chia seeds, and nut butter are a few great ways to work fat into your toddler's lunch.
2. A Serving of Veggies and/or Fruits
Obviously, these were mentioned in complex carbs above, but I do recommend including a veggie with your toddler's lunch every day and fruits are great to include as well. If you don't have a veggie to include definitely try to include a fruit!
3. Consistency in Routine
As important as the foods served is implementing consistent meal and snack times for your toddler. Try to set usual meal and snack times so that your toddler can get in the habit of regular meal times.
36 EASY Toddler Snack Ideas
Sign up fo my newsletter and grab my FREE TODDLER SNACK CHEATSHEET so that you don't have to worry about what snacks to feed your kids ever again.
By the way, we just LOVE these routine cards which we use throughout the day. I find that they help keep our toddler's manners in check at mealtimes. The pack includes cards for things like setting the table and thanking the cook (plus, loads of other daily routines (bedtime, etc)!
Helpful Feeding Products for Toddlers
Tips for Making Healthy Toddler Lunches
Plan ahead. – When I make my dinner meal plan I typically have a few ideas for lunches that we can have throughout the week. Additionally, I always have some last-minute pantry-style lunches I can almost always make, like this simple greek yogurt tuna salad.
Meal prep sides or items for lunches. – Meal prep can make the day at home with a toddler go much more smoothly. If you work outside of the home, it can also make it go more smoothly to have some meal prep done each week that will work for packing lunches, etc.
Serve a variety. – Try to change your toddler's lunch frequently. Keeping it interesting and different can help prevent your toddler from becoming picky about foods.
Know your role. – The parent's role in feeding their kids is to: (1) decide WHAT is served (2) WHERE it is eaten (3) WHEN mealtime occurs. It's your child's job to decide (1) HOW MUCH of the foods offered they will consume and (2) IF they will eat at all (side note: read my toddler won't eat dinner if you have trouble with your child not eating at meals.) Keeping your roles straight will help you to feel confident at mealtimes.
Toddler Lunch Ideas – Entrees
Tuna or Salmon Salad – I love having my toddler help me mix up a simple greek yogurt tuna salad. We serve it on whole-grain crackers and usually alongside a veggie and/or fruit.

Hard-Boiled Eggs – I like to prep ahead hard-boiled eggs using my Instant Pot for lunches or breakfasts. My toddler and I both like to add everything seasoning on top.

Grilled Cheese – A simple grilled cheese sandwich is my go-to when I'm really in a pinch. Add mashed sweet potato, broccoli, or spinach to the sandwich for an extra veggies boost. Serve alongside some veggies or homemade soup from the freezer.

Pizza Toast, Naan Bread Pizza or Tortilla Pizza – Making pizza on whole-grain bread (I like to use sprouted grain or sourdough), naan bread, or tortillas makes for a perfect toddler lunch. If you have an air fryer, it's perfect for making tortilla pizza nice and crispy!

Quesadillas – I almost always have black beans, cheddar cheese, homemade taco seasoning, & tomatoes on hand for a quick quesadilla lunch. However, quesadillas don't stop there. Other favorite ideas for toddlers include: chopped spinach + mozzarella and butternut squash or sweet potatoes

Beans – Canned beans are especially quick and can make a great entree for kids. Choose from black beans, chickpeas, cannellini beans, etc.

Ham Roll-Ups – Simply spread cream cheese on a slice of ham and roll it up! My son loves this special lunch. I serve it alongside fruits and veggies.

Homemade Lunchable – Perfect for when you need a cold, packed (not super messy) lunch on the go. We use these silicone bento boxes and put all sorts of combinations of things in them.
– Crackers + Deli Meat + Veggies/Fruits
– PB&J + Bell Pepper Sticks + Cut Grapes

Muffin Tin Lunch – Fill a muffin tin with all sorts of different items for a fun lunch:
– Cheese
– Cut veggies: pepper sticks, carrot sticks, steamed veggies (butternut, broccoli etc)
– Cut fruits or berries
– Fun items like cheddar crackers

Snack Plate – Ok, similar to a muffin tin lunch – put together a variety of fun/snacky, healthy items to create lunch. Make sure to include a mixture of protein, fats, veggies, and fruit to keep your littles satisfied until snack time!

Omelets – An omelet can make a great toddler breakfast or lunch! Fill it with chopped veggies, cheese, meat, or anything else you have on hand.

Tuna or Salmon Cakes – If I have a little more time (or I prepped ahead) sometimes we have tuna or salmon cakes for lunch. I serve them with sour cream and chives.

Peanut Butter & Jelly (Honey, or Applebutter) – I recommend this fruit spread, unsweetened apple butter, or honey in place of traditional jelly. (Note: I don't recommend any added sugars before age 2 so I personally opt for a fruit spread or unsweetened apple butter and even serve these items on a rare occasion until age 2.)

Hummus + Crackers or Pita + Veggies – My kiddos enjoy dipping crackers and veggies in hummus. It can make a quick and easy lunch for home or packed in a lunchbox.

Yogurt/Cottage Cheese – I buy whole milk yogurt/cottage cheese for my babies and toddlers. (More info on choosing yogurt for toddlers/babies here.) and serve it with fruit and other sides.

Shredded Chicken/Beef/Pork – Keep frozen shredded meat available to use for an entree for lunch.

Leftovers!! – I saved the best for last! When I cook dinner, I almost always cook extra so that we can use them throughout the week as needed and this often ends up being lunchtime if we are around and I don't have something else planned.'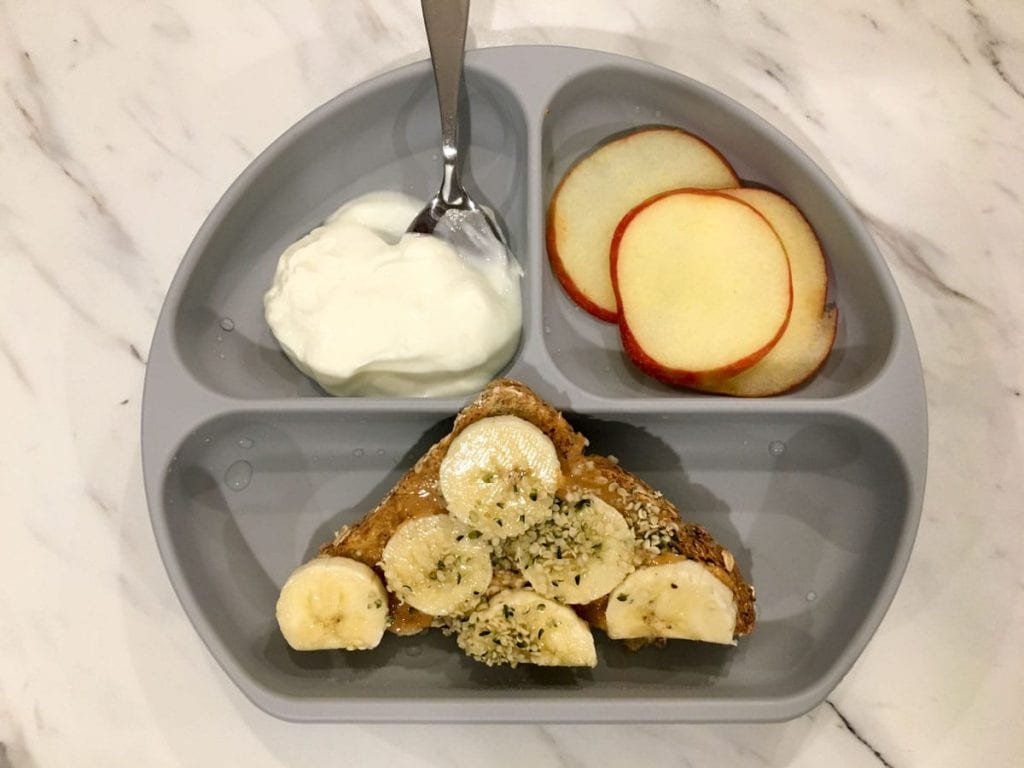 Toddler Lunch Ideas – Sides
Fresh Veggies – I almost always keep bell peppers in my fridge to cut into pepper sticks for lunches. Both my baby and toddler love them! I find that it works well to precut them and store them in these silicone bags (I LOVE these bags.) Other cut veggies include carrot matchsticks, small broccoli florets, cucumbers and snap peas.

Roasted Veggies – Pre roast veggies such as squash, sweet potato, broccoli, carrots, peppers, and more to have available for your kiddos.

Fresh Fruit – We almost always keep blueberries and strawberries on hand to serve throughout the week. Grapes, bananas, apples, cuties, mango, fresh peaches, and kiwi also work well when cut appropriately for easy toddler lunches.

Canned Peaches/Pears – An easy lunchtime win. Buy them in their own juice.

Frozen Peas – Technically you don't even need to cook them which is why they are one of my favorites. Simply set some out to thaw (my son likes them cold) or you can quickly cook on the stove.

Whole Grain or Nut Crackers – Crackers like Simple Mills, Mary's Gone Crackers, Triscuits, and Jovial Sourdough Crackers are my favorites to serve my family.

Hummus – I mentioned this under entrees but it can certainly be served as a side alongside many foods as well including veggies, pita bread, quesadillas, and more.

Avocado or Guacamole – Either slice avocado and serve as a side or make (or buy) guacamole to serve alongside veggies or crackers.

Nut Butter – A thin layer of peanut, almond or even seed butter can make a great addition to fruits and whole grains (crackers, bread).

Cream Cheese – Spreading cream cheese on crackers, apples, or veggies can be a fun way to spice up lunch.
Frozen/Packaged Food for Toddler Lunches
Having frozen or packaged extras on hand can be convenient and sometimes fun. Here are a few things I would recommend if you are looking for packaged food options for your toddlers lunch.
Dr. Praeger's Spinach Littles or Broccoli Littles – The ingredient list is short and easy to understand. My kids enjoy these and I like to serve them for something fun and easy sometimes. (Side note: Aldi has a knockoff that we also buy!)

Dr. Praeger's Kid's Fishies – Lightly breaded and features Alaskan pollock.

Sweet Potato Fries – Look for a brand with fewer added ingredients.

Wild Planet Tuna and Wild Planet Salmon – Any brand works, but this is easy to find at most major grocery stores.

Larabars and Kids RX Bars – Sometimes they are a snack and occasionally we serve with lunch, especially on the go.

Wholly Guacamole Minis – These mini guacamole cups are perfect if you don't have time to slice or mash an avocado.

Nitrate Free Lunchable – There are several brands available now. Some even have Triscuit crackers as well. I buy these on occasion if we are out unexpectedly and need something fast but don't want to eat out.

Stoneyfield Whole Milk Yogurt Pouch – My son begs for yogurt pouches (having had them at preschool before) so I occasionally buy these as a treat. They do have 4 grams added sugar which is minimal for flavored yogurt, but I typically prefer to buy plain yogurt and flavor at home ourselves. I also like that they are flavored with veggies such as beets. They are fast and convenient as well.
What Can I Feed My Picky Toddler for Lunch?
Ok, this is a super popular question… what can I feed my picky eater for lunch?!
Here's the thing, if you give them the same foods every day then this will encourage a continuation of picky eating. Try to change it up by offering 1-2 safe well-accepted foods alongside a new food. Over time, with consistent exposure, most kids will widen their preferences and start to try new foods.
Preschool or Daycare Toddler Lunch Ideas
Buy some lunch-packing equipment and do a variety of the ideas above to create a healthy toddler lunch for your little one to head to daycare or preschool.
Healthy Toddler Lunch Ideas
Do you have any favorite toddler lunch ideas that are easy, healthy, or just work really well for your family? Please share them in the comments below if you do! And don't forget to grab my free toddler grocery and snack lists to help come up with more ideas on how to feed your toddler well.
By the way, I share more tips on toddlers and healthy family life over on my youtube channel!
Print Recipe
Healthy Toddler Tuna Salad + 34 Other Easy Lunch Ideas
This healthy tuna salad is perfect for toddlers. Plus, check out these other 34 simple toddler lunch ideas.
Ingredients
5

oz

Canned Tuna

drained

3

Tbsp

Greek Yogurt

3

Tbsp

Dill Relish

1/2-1

tsp

Mustard
Instructions
Drain and rinse tuna. Mix tuna, greek yogurt, dill relish, and mustard.

Add salt and pepper to taste.

Enjoy on whole grain crackers, bread, or alongisde veggies.
Notes
See the above post for 34 other toddler lunch ideas and mix and match entrees and sides to your toddler's preferences!