This toddler inspired grocery list is perfect for families with kids (babies, toddlers, or even older kids!) Be sure to grab the free printable below and use it to plan your own healthy family grocery list.
This post contains affiliate links. If you click & make a purchase, I receive a commission! Thanks! Read my full disclosure policy. As an Amazon Associate I earn from qualifying purchases.
Creating Your Family's Grocery List
Creating your grocery list should come from two basic places:
1. Your weekly meal plan. Your list should be based with your weekly meal plan. However, if you meal plan dinners only, make sure you have plenty of snack, lunch, and breakfast options to choose from.
2. Foods needed to replace the stock in your pantry, fridge, and freezer. In other words, these are the go-to items you keep stocked continuously. For me, this includes things like canned tomatoes, frozen fruit, meat in the freezer, yogurt, spinach, and bananas to name just a few. When you run out, add it to your list.
FEED YOUR TODDLER BETTER SNACKS!
Stop snack time overwhelm. Grab my FREE TODDLER SNACK CHEATSHEET with 36 healthy snack ideas.
Grocery List Basics
A basic grocery list should have a variety of foods so that you can expose your family to different foods throughout the week. I've divided this toddler and kid friendly grocery list into the following categories:
Veggies
Fruit
Meat, Fish, & Eggs
Dairy
Rice & Grains
Beans/Legumes
Canned and Packaged Goods
Oils & Condiments
Prepackaged Snacks
Convenience Items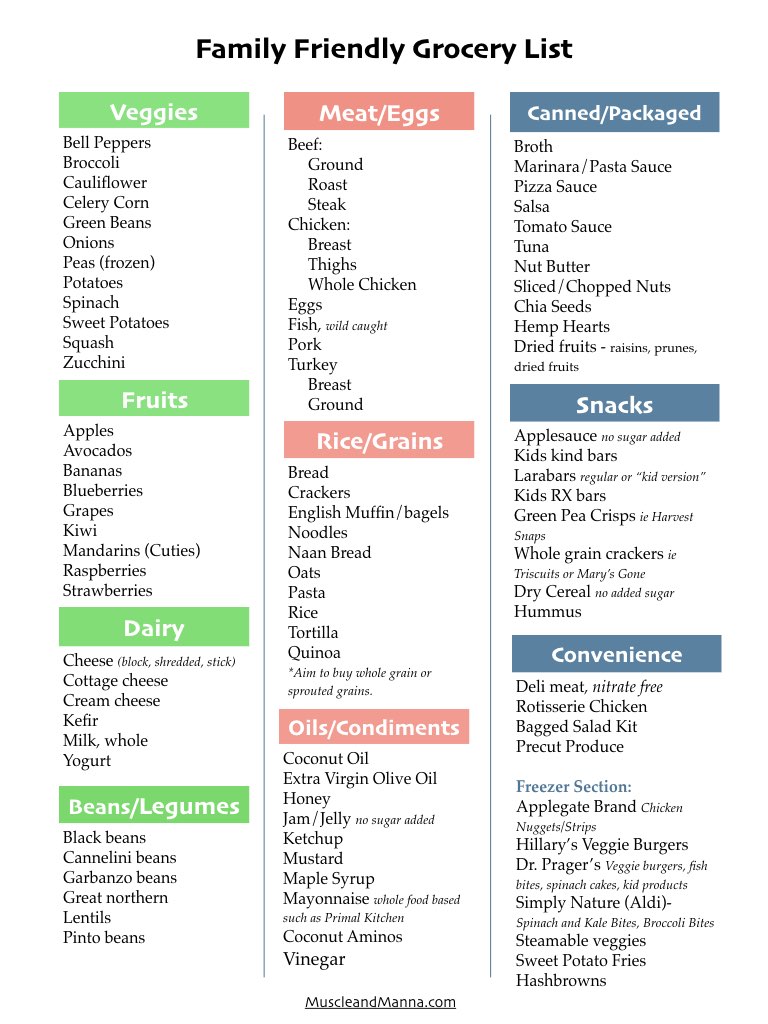 [elementor-template id="4957″]
Healthy Grocery List for Kids and Families
This toddler-approved grocery list is a great starting place for any family. You can use it as is or to guide you in making your own list by marking foods off and adding some of your family's favorite foods. Picky toddlers can benefit from being exposed to a variety of foods throughout the week, and planning ahead will help ensure you have a variety of foods on your grocery list.
Vegetables
Buy a variety of veggies you will use throughout the week. In general, fresh and frozen veggies are the best choices, but canned vegetables (such as tomatoes or green beans) can be a compliment to a meal in a hurry as well. Here are a few veggies that are perfect for your kid friendly grocery list:
Bell Peppers – The orange and red ones are sweeter and may be more well-accepted among picky toddlers and kids.
Broccoli
Cauliflower
Celery
Corn – fresh or frozen
Green Beans – fresh, frozen, or canned (no salt)
Onions – can buy frozen to save time when cooking if needed
Peas, frozen
Potatoes
Spinach, fresh or frozen
Sweet Potatoes
Squash
Zucchini
Fruit
Try to buy a few different fresh fruits for your family each week. Things like bananas, apples, and grapes are usually well accepted among kids and toddlers and make great sides for lunch or snacks along with a protein or fat.
Apples
Avocado
Bananas
Blueberries
Grapes
Kiwi
Mandarins such as "cuties" or "halos" – Oranges work as well, but I find many toddlers prefer these and they do encourage independence as they are typically easier for small kids to peel.
Raspberries
Strawberries
Meat, Fish, and Eggs
If you are making a budget grocery list for your family, consider stocking a deep freezer or other large freezer space with meat as it goes on sale. Here are some meats to consider using to create your family's meals:
Beef – Ground, Steak, or Roast
Chicken – Breast, Thighs, or a whole chicken all work well in a variety of recipes. Chicken tenders are often small cuts of breast and can make cooking faster if you intend to cut the chicken. Buying a whole chicken to cook and create your own broth at home is one of the most budget-friendly options.
Eggs
Fish – Salmon or white fish – choose wild-caught when possible
Pork – Tenderloin, Roast
Turkey, Ground or Breast
Dairy
Rice/Grains
Bread, Whole grain or sprouted bread.
Crackers, Whole grain
English muffins or bagels – whole grain or sprouted
Noodles – Here's some great information on choosing the best noodle from Jennifer Hunt, RD.
Naan bread, whole-grain – Can use to make naan pizza, etc
Oats – Here's a complete guide to the different types of oats.
Pasta – Whole grain or bean/legume-based
Rice – wild, brown
Tortilla – whole grain or corn
Quinoa
Beans/Legumes
Black Beans
Garbanzo Beans (Chickpeas)
Lentils
Pinto Beans
White Beans – Cannelini, Great Northern
Canned and Packaged Goods
Broth – Chicken, Beef, Veggie
Marinara/Pasta Sauce
Pizza Sauce
Salsa
Tomato Sauce
Tuna – My family likes Wild Planet Skipjack tuna which is easy to find at most stores (including Walmart). I like that it is lower in Mercury and caught using sustainable fishing methods.
Nut Butter (Peanut butter, almond butter, sun butter, etc)
Sliced/Chopped Nuts – Sliced Almonds, chopped cashews
Chia Seeds
Hemp Hearts
Dried Fruit – raisins, prunes, or other dried fruits (choose no added sugar)
Note on canned/packaged goods: read the ingredient list when choosing products. Many may contain hidden sugars.
Snacks
Applesauce
Kids kind bars – They are not my preference as they do contain added sugar but at 5g it is much less than most kids bars on the market.
Larabars – regular or "kid Lara bar" comes in a smaller size
RX bars – they have smaller "RX kids bars"
Green pea Snack Crisps – such as Harvest Snaps
Whole-grain crackers – Triscuits or Mary's
Hummus
Dry cereal with no added sugar
Oils& Condiments
Coconut Oil
Extra Virgin Olive Oil – Here's more info on choosing the best olive oil
Honey
Jam/Jelly – no sugar added
Ketchup
Mustard
Maple syrup
Mayonnaise – Choose a brand such as Primal Kitchen
Coconut Aminos – makes a great soy sauce replacement
Vinegar – Red wine, Apple Cider Vinegar (with the mother for enzymes and good bacteria benefits)
Convenience Items
Convenience items can certainly be a dinner saver on busy nights or unexpected situations. Although the term convenience food gets a poor reputation, they certainly have their place in a healthy meal and can make a necessary snack on the go easier.
Here are a few of my favorite convenience items and brands that I prefer to use for my family:
Applegate Naturals Brand – Chicken nuggets, Chicken strips, Nitrate free deli meat, Grass fed hot dogs
Hillary's Veggie Burgers (many varieties available)
Dr. Prager's Brand Items (Veggie Burgers, Fish Bites, Spinach Cakes, Kids products)
Simply Nature Spinach & Kale Bites, Broccoli Bites (this is an Aldi's knock off of Dr. Pragers)
Sweet Potato Fries
[elementor-template id="4957″]
Why a Healthy Grocery List is Important for Toddlers
FAQ: Toddler Grocery List
What are good 2 year old foods?
Serve your 2 year old a variety of foods throughout the day from this grocery list. Aim to serve them proteins, healthy fats, and produce throughout the entire day. Ensure that you properly cut and prepare foods that are choking risks. For example, any cylindrical veggies (carrots, cucumbers, etc) should be cut lengthwise to avoid small round pieces.
What are good finger foods for toddlers?
Toddlers enjoy a wide array of easy to eat finger foods. Healthy finger foods for your toddler could include: thin sliced cucumbers, bell peppers, bananas, melon, berries, peanut butter and jelly, toast, avocado, and more.
What can I make my picky toddler for dinner?
Toddlers and preschoolers can be a challenge to feed! In general, feed them what you are serving the rest of the family. Here are some tips on dealing with a toddler who won't eat dinner.
How do you make a budget grocery list for family?
Prioritize your list with the most important items first and unnecessary/wants last. In general, eating whole foods is budget-friendly as you stick to the basics: meat, veggies, fruit, and basic pasta, etc. Here are more tips on eating healthy on a budget.
[elementor-template id="4957″]