15 Healthy Snacks to Buy at Walmart
This post contains affiliate links. If you click & make a purchase, I receive a commission! Thanks! Read my full disclosure policy. As an Amazon Associate I earn from qualifying purchases.
If you are looking for healthy snacks to buy at Walmart, you may find it is easier than you expected. Over the past few years, I've noticed Walmart is carrying more healthy snack items that they didn't use to carry. In fact, 3 years ago I lived in a small Montana town for a summer and was basically stuck with Walmart for shopping. There was certainly no Siggi's yogurt or RX bars to be found on their shelves back then!So today, I'm taking on that ever-popular question, "How can I buy healthy food at Walmart?" snack style. Buying healthy food does not mean you need to go to specialty stores all the time. While there may not be as many options on the whole as a store like Fresh Thyme, Trader Joes, or even Kroger, Walmart is coming out with better choices all the time.
So, here are some of the healthiest snacks you can buy at Walmart!
15 Healthy Snack Finds at Walmart
1. Nuts – Raw almonds, Pistachios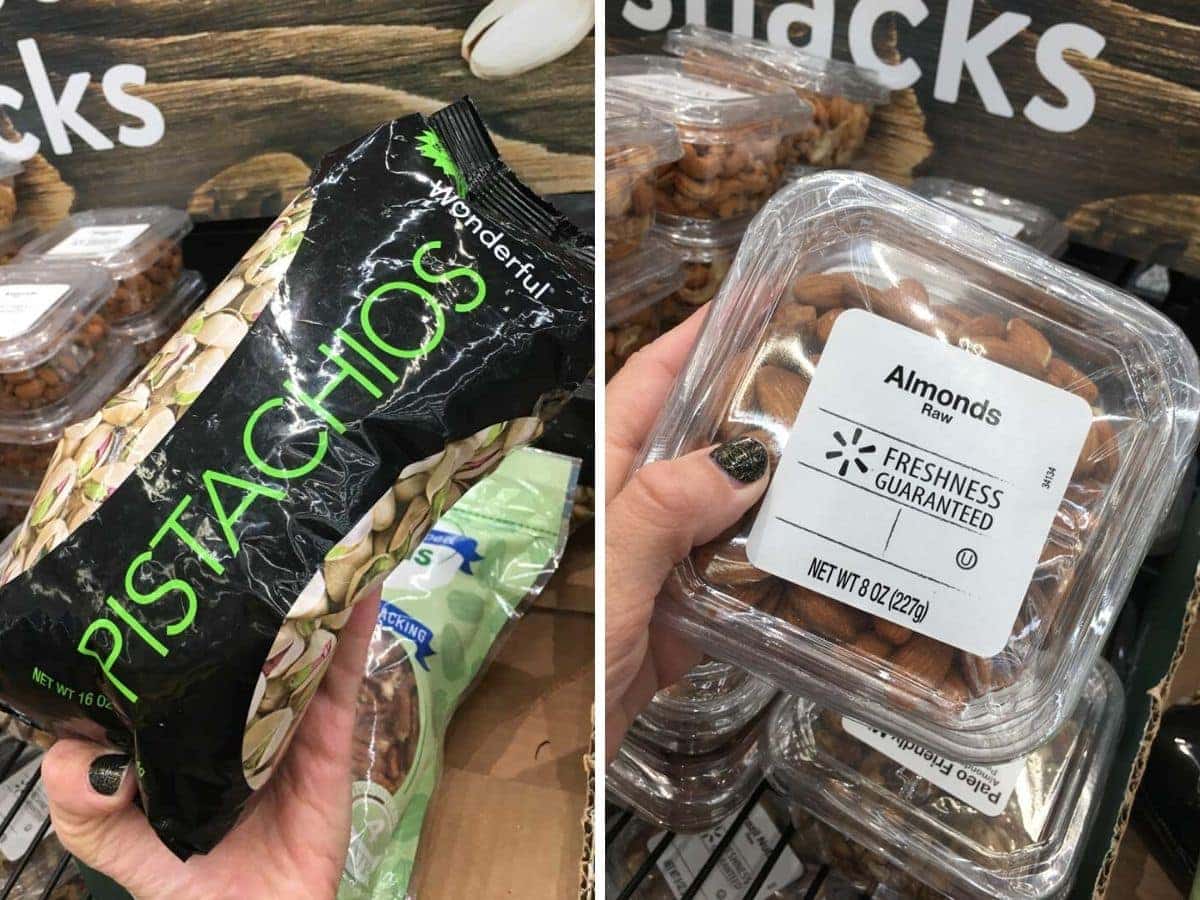 What to buy: I love wonderful brand pistachios. I find that if I buy pistachios in the shell I eat them more intuitively and find satisfaction in opening each one. Walmarts raw almonds are also a good find without any added ingredients. Of course, there are also various roasted nuts available. Be aware that they may be roasted in a variety of less healthful oils, but can still be a healthy part of your diet. Other nuts you can find at Walmart are Brazil nuts, cashews, walnuts, and pecans.
Things to consider: Nut consumption is actually linked to a reduced risk of heart disease. Nuts are 80-90% fat, most of which is the beneficial monounsaturated fat. Keep in mind that a typical serving size of nuts is typically 1 oz which can look different depending on what nuts you are buying. For example, 1 oz would be 24 almonds but only 8 brazil nuts, which are a larger nut.
2. Hummus
What to Buy: Most Walmarts have the cost-effective Marketside brand as well as the popular Sabra hummus. The main difference is Marketside is made with canola oil, while Sabra uses non-GMO Soybean oil. Sure, making it yourself is best, and other more specialized grocers certainly have brands that may have higher quality oils and fewer preservatives. But simple, easy Walmart snacks are our mission here. Choose a flavor that appeals to you and enjoy!
How to Eat it: Hummus is basically ground chickpeas. You can use it as a dip with raw veggies or top it on whole-grain toast/crackers.
3. Babybel Cheese
What to Buy: Original Babybel cheese.
Why I love it: These cheeses are super convenient to grab for a snack on the go or to pack in a lunch box. I love the super simple and understandable ingredient list: Pasteurized Cultured Milk, Salt, Microbial Enzymes.
4. Wholly Guacamole
What to Buy: Wholly Guacamole comes in mini containers as well as a large container. I like the minis as I find they seem to stay good a bit longer if you are just using them as snacks throughout the week.
How to Eat It: Guacamole can be used as a veggie dip, topped on whole-grain toast, crackers, or pretzels, or with tortilla chips. I recommend Garden of Eatin' tortilla chips if you go that route, but there are so many other ways to eat guacamole don't forget to mix it up!
5. Precut Veggie Tray
What to Buy: Of all the healthy snacks to buy at Walmart, veggies may be the most obvious choice, but also often overlooked. In addition to these larger veggie trays which could last you a few days worth of snacks at home, Walmart has single serving veggie trays you can pack along for a last-minute convenience option. Other options for great ready to eat veggies include baby carrots and bags of cut broccoli florets or cauliflower.
What Makes This Snack Great: Need I say more about the benefits of veggies? Buying pre-cut veggies for snacks is one strategy I recommend if you are short on time and looking for easy ways to eat more veggies. Consider pairing veggies with a protein source such as cheese, greek yogurt (or greek yogurt dip), hummus or cottage cheese. Even a healthy fat like guacamole will help the veggies fill you up longer than eating it solo.
6. Ready to Eat Fruits
What to Buy: Of course any fruit will make a great snack, but if you are looking for something convenient you can find them precut in a variety of mixes depending on the season. Other great ready to eat options include bananas, cuties, apples, and pears. Just be sure to wash produce appropriately rather than just dig in!
Make it a Great Snack: Fruit is packed with antioxidants and nutrients making it a super nutritious snack. But have you ever ate an apple and almost felt hungrier afterward? Try pairing your precut Walmart fruit with nut butter, cheese, or greek yogurt to make it last longer.
7. Sargento Cheese Sticks and Great Value Organic Cheese Blocks
What to Buy: As far as healthy packaged cheese snacks to buy at Walmart, the Sargento brand cheese sticks are my favorite. If convenience is of less importance, opting for a cheese block will certainly give you more options and even open up some organic choices if you prefer organic dairy.
Snack Tip: 1.5 oz of cheese is a serving size, which is roughly about the size of 3 dice. Consider pairing cheese with a fruit or veggie to get some extra produce in!
8. Breakstone's Cottage Cheese Cups
What to Buy: Walmart has Breakstone's individually packaged cottage cheese cups, which can be pretty convenient if you are packing a healthy snack for on the go. Breakstone's brand is free of Carrageenan that other brands like Prairie Farms do have. According to their website, some Walmart stores may have Daisy brand cottage cheese which has a very simple, 3 ingredient list, but mine doesn't carry it.
Snack Tip: Again, consider pairing it with fruits or veggies to increase antioxidants and nutrients!
9. Siggi's Yogurt Cups
What to Buy: I was so excited when I saw this healthy find at Walmart. Though they do have some added sugar, Siggi's brand flavored yogurts are so much lower in sugar than most brands, making them a great option for a flavored yogurt on the go. (The brand actually also has some No Sugar Added flavored yogurt on the market that is wonderful, but apparently Walmart hasn't caught that memo yet.) We mostly buy plain organic greek yogurt at home and flavor it ourselves, but we definitely throw some Siggi's in as well.
10. Boom Chicka Pop
What to Buy: Boom Chicka Pop bagged popcorn is a great prepackaged convenience option for ready to eat popcorn. They have simple ingredient lists and taste delicious. They have several different varieties and flavors depending on your snacking mood.
And if you want that warm, fresh, at home popcorn experience it turns out they have microwave popcorn available now as well. Full disclosure I haven't tried it, but their microwave popcorn also features simple and short ingredient lists making it a convenient and fast option for a family movie night snack. Not to mention it's a great alternative to traditional brands. (Note: I do feel inclined to mention that there is no need to buy microwave popcorn in order to microwave popcorn. You can microwave popcorn kernels in a glass bowl covered with a plate and it turns out great.)
11. Whole Grain Crackers: Organic Original Triscuits or Mary's Crackers
What to Buy: Organic Original Triscuits and Original Triscuits feature a short 3 ingredient list. If you can swing the cost of organic in your budget I do recommend it. They are made with higher quality, expeller pressed sunflower oil as opposed to vegetable or canola oil listed in original Triscuits.
Some Walmart stores also have Mary's Gone Crackers which are full of whole grains, seeds, and quinoa! They are pricier and may be harder to find at your store, but I've seen them at mine from time to time and they do make a great snack option.
12. Tuna or Salmon Packets
What to Buy: I prefer Wild Planet tuna which is sustainable and honestly tastes better to me. Plus, it boasts a short and simple ingredient list. Mixing it with some greek yogurt and seasonings is a great protein-packed snack.
If you are looking for something you can eat without prep or to take on the go, tuna and salmon packets can be found in a variety of flavors and brands and can make a great snack (or even small meal!) In fact, they are great to keep in your car for last-minute and unforeseen times you need to eat when out and about.
Why I love this snack: Tuna is a great high protein snack option at Walmart. It's affordable, filling, and whole food based. Plus, tuna is a great source of Omega 3 fatty acids and is packed with both DHA and EPA!
13. Larabar and Larabar Protein Bars
What to Buy: Larabars are great and always have a simple ingredient list. If you are avoiding added sugars, simply forgo the chocolate/chocolate chip varieties. They are mostly comprised of dates and fruit.
Larabar Protein is a variety available in several flavors that has pea protein added in for extra protein. I love that I'm able to get in some extra protein with these bars, but to be as honest we don't find the bars quite as soft and palatable. However, more protein typically leaves me feeling good so I do choose these from time to time.
Fun Fact: Lara Merriken, the creator of Larabars, actually got the idea to combine nuts and fruits into this delicious bar while out on a hike. She started making the bars from scratch at home, looking to create a delicious and healthy snack. In 2008, Larabar became part of General Mills.
14. RX Bars
What to Buy: RX bars are great packaged snack find at Walmart. I keep one of these in my purse/diaper bag almost all of the time for those emergency moments. They have a similar ingredient list to Larabars with the addition of egg whites which gives more protein per bar.
15. Chomps Jerky Sticks
What to Buy: Chomps Jerky is another great high protein snack you can find at Walmart! 3 varieties of Chomps Jerky Sticks are available at my Walmart – 2 beef varieties and 1 turkey. With a motto of "All stick, no ick!" they feature grass-fed beef or free-range turkey and are free of additives like sugar, nitrates, fillers, and artificial preservatives.
Snack Tip: Again, these make a great non-perishable snack to keep in your bag or car for unexpected snacking needs.
Finding Healthy Food at Walmart is Easier Than You Think
These healthy snacks to buy at Walmart are certainly enough to get you started with healthy packaged snacks…Walmart style. And don't forget these can be combined in various combinations to create different snacks. Hummus isn't just hummus. It can be hummus toast, hummus and veggies, hummus and hard-boiled eggs. The options are endless.
By the way, what are your favorite healthy snacks to buy at Walmart? Please leave them in the comments below! And, if you want my Ultimate Master Grocery List that features the foods I often buy for my family including brand names, be sure to grab it here in my resource library!
Related Articles
Ultimate Grocery List – Free Printable
Grocery Shopping Tips that Save Time and Money
Grocery Budget Tips for the Health Conscious