This post contains affiliate links. If you click & make a purchase, I receive a commission! Thanks! Read my full disclosure policy. As an Amazon Associate I earn from qualifying purchases.
Before I go into my Aldi real food finds, I want to start with a story about how I took these pictures. The stock man at Aldi must have stopped me four times while taking these pictures to ask if I needed anything. The final time he put great emphasis on making SURE I was finding what I needed, "Are you SURE you don't need help finding anything." I was trying to blend in while taking my photos and jotting down prices. Lesson learned: next time, don't be so self-conscious, and politely tell the man what I'm doing! I'm pretty sure it's not illegal to take photos in grocery stores. I mean this isn't pottery barn, right? (Seriously, I still remember someone I was with being asked not to take a photograph at Pottery Barn in high school.)
Are you held up from changing your diet because you are concerned about the cost and toll it will take on your budget? Buying good healthy food doesn't have to break the bank! One way I've found to have great savings is to start my grocery shopping at Aldi every week. I can get some essentials, check the price and quality of produce, and head on to another grocery store to get what I still have left to buy!
In the midwest, I grew up with Aldi. I remember putting my mom's quarter in to get our cart and searching for an empty box in the aisle to pile all our groceries in. Even as a kid, I loved it when we went to Aldi to get groceries. I was so excited a few years ago when we were living in East Tennessee and our town finally got an Aldi. It seems like the last few years they are popping up everywhere and now making promises to continue to offer more organic and less processed options. Fuel to my flame! 🙂
I definitely don't buy everything at Aldi. Some of the things I put on this list are stuff are cheaper at a wholesale (such as Sam's club or Costco) and some things might be found cheaper on sale or in bulk bins out of the bulk section. However, I love that even in just 1 simple stop you can get all kinds of healthy food without breaking the bank!
Fun fact: The founders of Aldi and Trader Joe's were brothers.
17 Aldi Real Food Finds
1. Produce Finds
The produce varies week by week at Aldi. If you don't review grocery ads before heading out to do your shopping (guilty!) then my best piece of advice is start with Aldi. This will allow you to compare the price with "usual prices" at other stores. I often find good deals on avocados, peppers, mushrooms, onions, and perhaps any other produce special depending on what it is that week.
2. Steel Cut oats
At only $2.29 for a 24 oz container, this is definitely a good deal on steel cut oats. It's one of the cheapest options with the exception being buying from bulk bins. (Purchasing in bulk is often cheaper and the case remains for steel cut oats. I can get them at Fresh Thyme for $0.99 /lb.) However, when this option isn't convenient or available, Aldi makes for a great place to stock up on Steel Cut Oats.
3. Quinoa
Quinoa is a actually a seed, but it can be eaten as a grain. It's a great source of fiber and protein (even containing all nine of the essential amino acids!) You can work quinoa into a variety of dishes including these Turkey Quinoa Meatballs.

4. Meat
Similar to their produce, Aldi has meat sales that vary by the week. Check the flyer to get a heads up on the meat that will be on sale for the week.
I generally end up buying my meat when Earth Fare or Fresh Thyme has a sale and I'm stocking my freezer, but Aldi does have some great choices as well.
"Never Any!" brand of both Whole Chickens and Chicken Breasts
"Fit & Active" Lean Ground Turkey
Simple Nature Organic Grass Fed Beef
5. Organic Canned Beans
Truly, I don't take a lot of time to soak beans ahead of time and often find myself buying canned beans instead of dried. Canned organic beans at my Aldi are $0.79 per can as compared to generally $1 on sale at Kroger. Sure, dried beans may be a bit cheaper, but the canned kind fit our busy lifestyle perfectly, still allowing us to get quick and healthy dinners on the table night after night!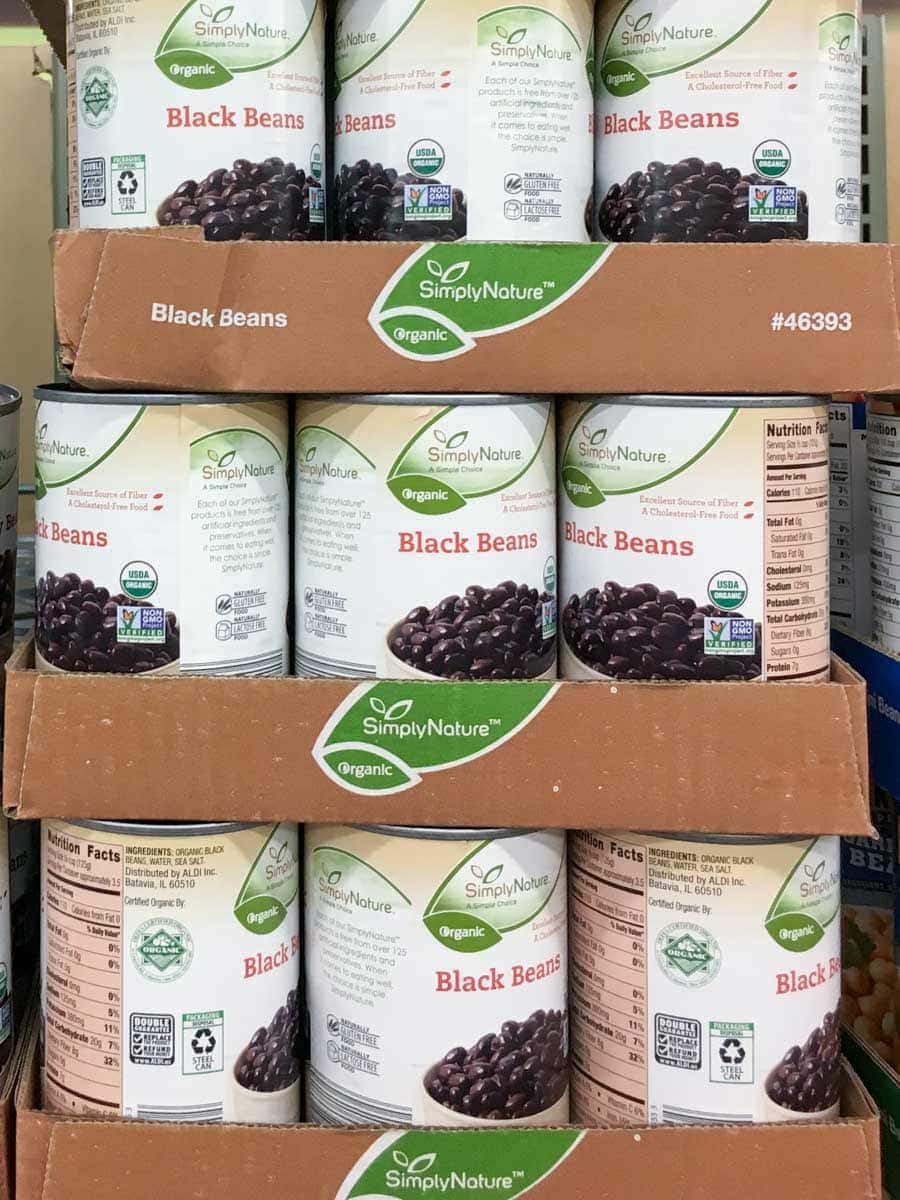 6. Organic Canned Tomatoes
Tomatoes are on the dirty dozen list so I prefer to buy organic on my tomato products. This huge can of chopped tomatoes works perfect in many dishes, especially soups! If you don't need the whole can you can always freeze the remainders.
7. Organic Chicken, Beef, Vegetable Broth
Making your own broth at home is simple, but to be completely honest I always run out of it before I'm ready to make it again. Therefore, in between I typically buy organic broth (to help with avoiding unnecessary ingredients.)  Aldi generally has organic beef, chicken, and vegetable broth available for $1.89.
8. Eggs
Aldi has both organic and conventional eggs at excellent prices. The conventional egg price especially vary by the week, but are almost always under $1 for one dozen!
The Organic Eggs are going for $3.49 per dozen right now at my Aldi which beats out both my Wal Mart and Kroger!
9. Peanut Butter
I would skip the conventional peanut butter at Aldi as it has unnecessary added ingredients (see right bottle). If you're going conventional, try Kroger natural instead or buy it in a bulk section). However, if you go with organic peanut butter, their organic variety included no added sugar and only peanuts and salt and rang in at $3.89 for a jar or $0.24/ oz.
10. Nuts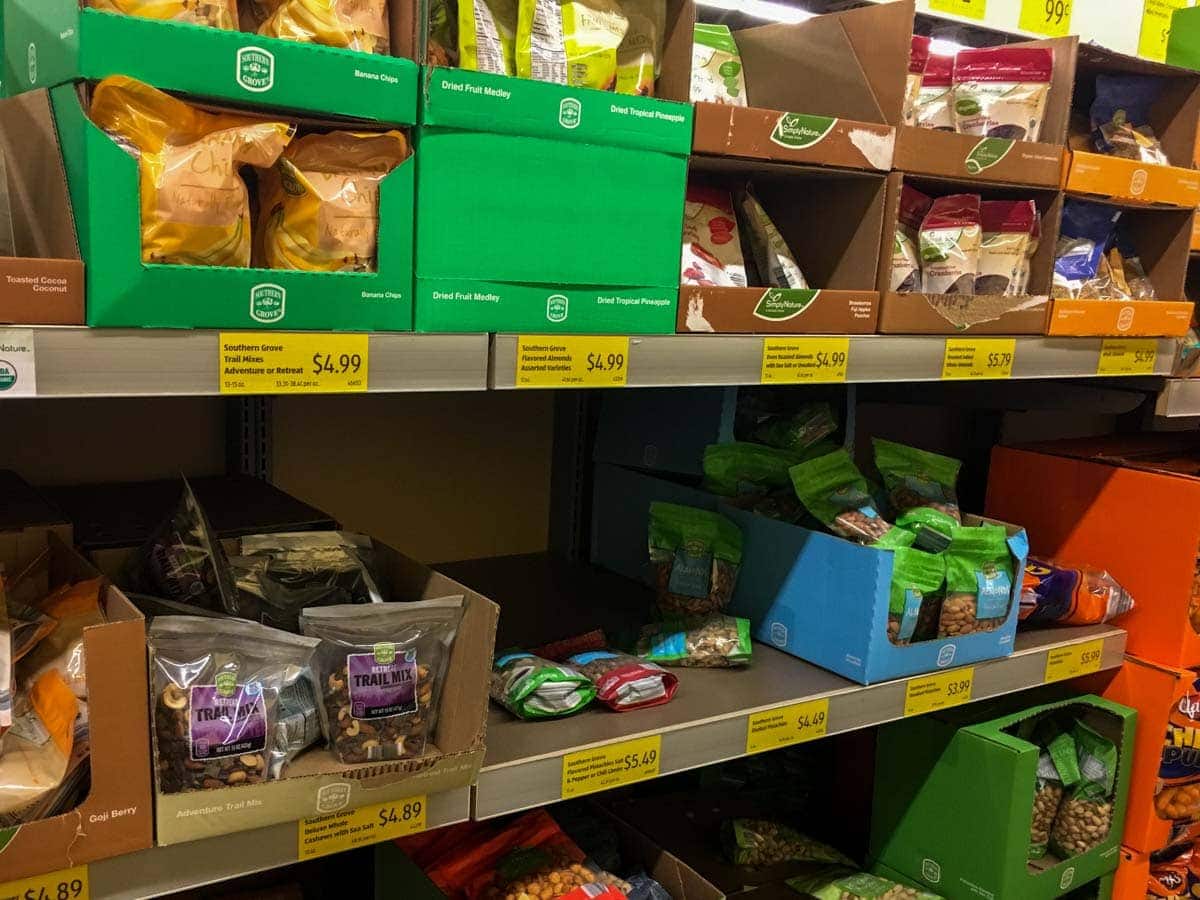 Aldi has a variety of whole and chopped nuts. The plain nuts are perfect to mix together with unsweetened dried fruit to make your own trail mix!
11. Organic Coconut Oil
Coconut oil can be processed in a variety of ways. Aldi's coconut oil is unrefined and cold-pressed, making it a perfect real food find.
12. Milk
The Conventional Milk at my Aldi this week was $1.25, but it does vary by the week.
Aldi also has organic milk for $2.95/half gallon.
Side note: I don't actually usually buy my milk at Aldi, but it's a good price and option and we have purchased it from here before. I typically buy the glass bottled non-homogenized kind for my husband (I don't like milk). In general, I prefer to stick to foods in their more natural and less processed forms. Therefore, we choose to get the non-homogenized milk. The company I buy from isn't certified organic, but I trust their farming practices (giving cows antibiotics, but only as needed) and pasturing their cows as able.
13. Apple Cider Vinegar
Aldi apple cider vinegar include "the mother", strands of friendly bacteria making it more beneficial. It works great in a variety of salad dressings and marinades, and their brand is definitely cheaper than the name brand (Bragg's.)
14. Chia Seeds
I love to mix chia seeds in my smoothies, granola, and yogurt!

15. Sprouted Bread
Aldi sprouted bread has a variety of sprouted grains and is sweetened with honey and molasses. I generally prefer Ezekiel sprouted bread which includes no sweeteners and is only comprised of sprouted grains (Aldi bread does have some whole wheat flour.) However, at $2.99 it's easier on the budget than Ezekiel bread and still a great whole grain option.
16. Whole Grain Pasta
We don't do pasta very often, but when we do we always buy whole grain. Make sure you snag the one that is made with 100% whole grain. They are all thrown together and while there are several organic options you have to hunt for the whole grain option.
17. Snack Foods
Who doesn't love a snack? Or need a snack for convenience sake? Here are a few Aldi real food finds in the snack section!
Unsweetened Apple Sauce (or "Fruit Blend")
Make sure you buy the one with no added sugar as they do have applesauce that DOES list sugar in the ingredients label.
Rice Cakes
The rice cakes at Aldi are so much cheaper than most grocery stores! Top them with some peanut butter and chia seeds and you have a delicious snack!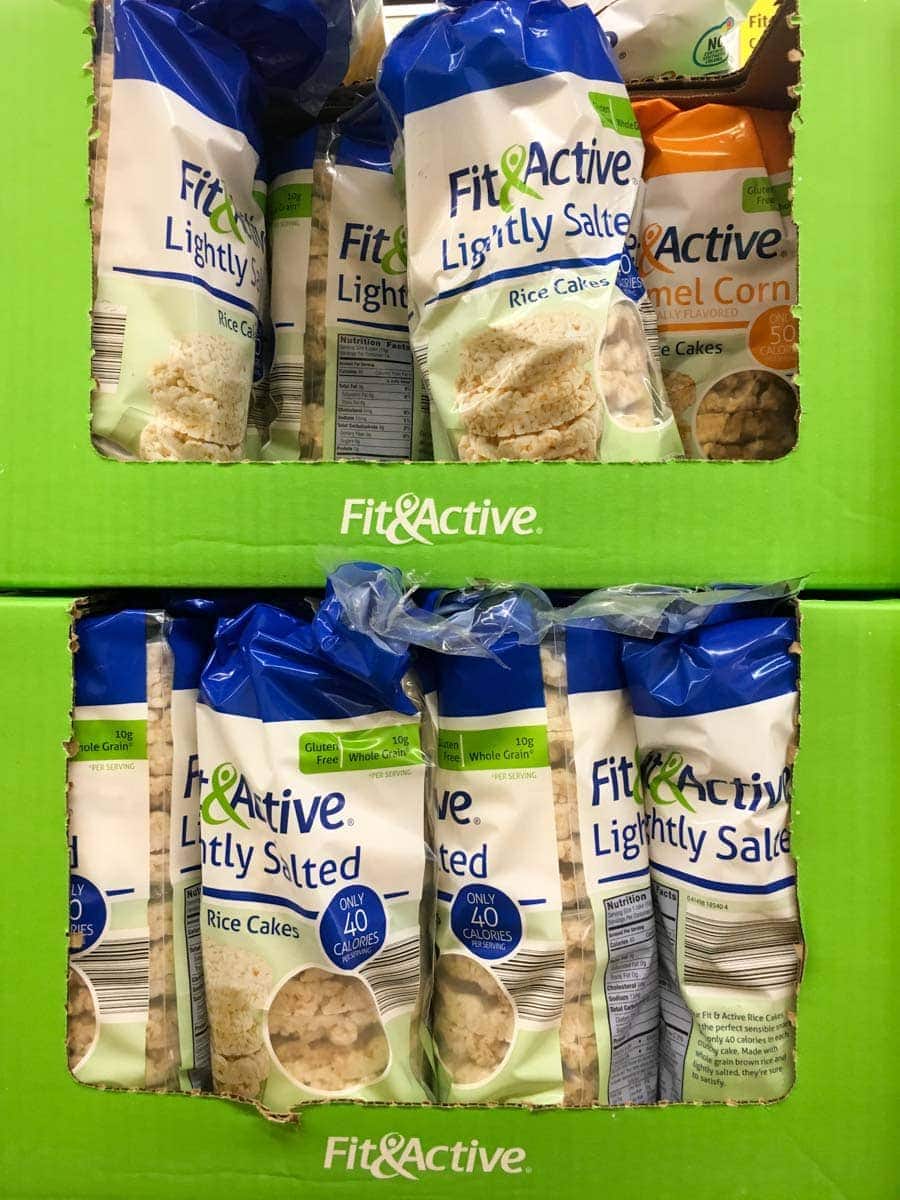 Lightly Salted Popcorn
This option beats out most chips any day! Less ingredients and more bang for you buck since you only have 31 calories per cup!
Corn Tortilla Chips
Okay, so I did include a chip option! I like to buy these organic tortilla chips to snack on along with some salsa, homemade dip, or eat alongside taco salad.
Finding Real Food Finds at Aldi
Just like any other grocery store, remember to check your labels by reading the ingredient list. Food is often marketed as "healthy" only to be loaded with processed ingredients and sugar. The goal of a company is to market their food to you and they can call anything they want "active", "healthy", natural", or any other term to catch your attention. It's more important than ever to be a careful consumer.