13 Sugarless Baby (& Toddler) Muffins
This post contains affiliate links. If you click & make a purchase, I receive a commission! Thanks! Read my full disclosure policy. As an Amazon Associate I earn from qualifying purchases.
Are you looking for delicious, but also healthy muffins for your baby, toddler, or even older kids? Every single one of these recipes is free of refined flours, sugar, any artificial sweeteners (including stevia), and basically any sweetener that isn't fruit (yes, even honey and maple syrup!) These 13 baby led weaning muffins also make great sugar free muffins for toddlers.
13 Healthy Baby Muffins (Also perfect for Toddlers!)
Naturally Sweetened Fruit Muffins for Babies and Toddlers
So many healthier muffins are sweetened with sugar alternatives such as honey or maple syrup. And trust me, most of the dessert recipes you'll find on my site are too! It's a great way to add some sweetener in a less refined way then say just sugar. It's what my husband and I routinely use at our house to sweeten coffee or make yummy desserts for ourselves.
However, when it comes to feeding babies many Moms, including myself, are looking for recipes that are free of any sweeteners based on the recommendations of many professionals (including the American Heart Association) to avoid sweets until at least 2. (By the way, that's why I made a sugar free smash cake for his first birthday.)
So, on to these delicious and healthy muffins for babies!
These date sweetened muffins are a current favorite of Baby R. Made with oat flour and sweetened with pumpkin and dates they make a great snack or sugarfree breakfast muffin.| Gluten Free, Dairy Free
These mini baby muffins are bulked up with flax seed and hemp hearts giving your babe an extra boost of Omega 3's. Plus, these muffins feature peanut butter. So, if you're looking for a recipe to introduce allergens, this may very well be the one for you! (Note: Many studies now suggest it is best to introduce major allergens sooner rather than later!)
These muffins are technically flourless as they are made with almond flour. Between the almond flour and eggs, they are also higher in protein than most muffins!  | Gluten Free, Dairy Free
I love that this recipe includes one of my favorite baking ingredients – chickpeas. Baking with beans is a great way to add a little extra protein and fiber to your little one's diet. | Gluten Free, Dairy Free
This incredibly easy 4 ingredient muffin features a sweet potato base. Veggie muffins are a great way to sneak some extra veggies into your babies or dare I say toddler's diet! My husband already made this recipe for our son who LOVED them. |Gluten free, Dairy Free
Unsweetened coconut flakes add some extra flavor to these banana muffins. |Gluten Free, Dairy Free (depending on milk choice)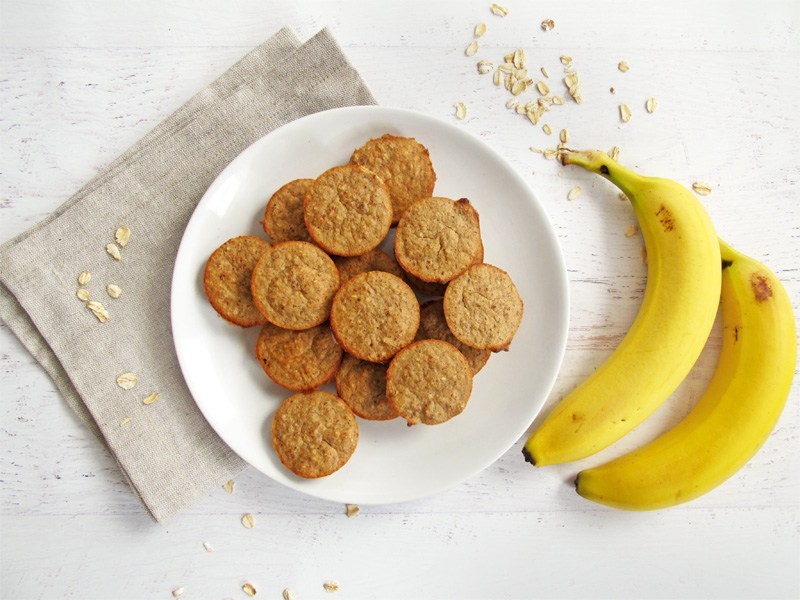 This is another fun muffin recipe you could use to introduce nuts! | Gluten Free, Dairy Free (if you use a milk alternative)
Ok, so technically these are bars, but they would still make perfect finger food for your toddler or baby. Plus, this is another great recipe that is bulked up with hemp hearts and flax seed. |Gluten Free
With berries topping each muffin these are so cute! Sweetened with date and banana, your babe is sure to love them. |Gluten Free
If your little one is anything like mine, bananas are ALLLWAYS a hit. These banana flavored muffins are sure to please while the chickpeas will bring some extra fiber to boost the nutrition value of the muffin. These would make a perfect grain-free baby led weaning banana muffin. |Gluten Free, Dairy Free
Favorite Savory Baby Muffins
Egg & Broccoli Cheddar Cheese Bites by Kathy Siegel, MS, RDN, CDN & Tracee Yablon Brenner, RD, CHHC at Triad to Wellness
Egg muffins are a perfect way to get protein AND veggies (in this case broccoli) in your little one first thing. Plus, they are usually a great item to meal prep for a few days ahead of time. | Gluten Free
These veggie egg muffins feature broccoli, spinach, and red peppers giving them plenty of extra veggies! | Dairy Free, Gluten Free
Zucchini, carrots, peas, and corn make these veggies muffins a great way to get a variety of veggies in your little one…in muffin form! The cheddar cheese rounds these muffins out with a savory flavor that I'm 99% sure my toddler will like.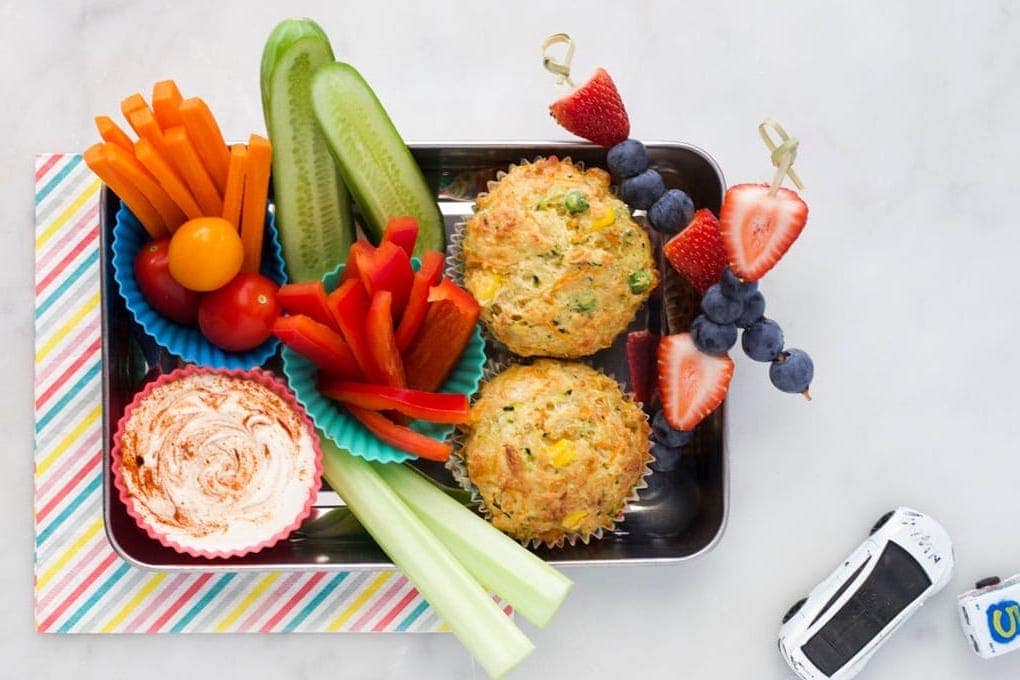 Egg Free Baby Muffins
All of these muffin recipes have eggs in them and I haven't personally made these recipes without eggs. However, I have had good results using flax eggs when I'm in a pinch (and ran out of eggs) for several years in different baking recipes. If your little one has an egg allergy or you avoid eggs, it will likely work to try modifying some of these recipes that only call for 1-2 eggs using a flax egg. If a recipe is using more than 2 eggs it's likely it will be noticeable, but I have replaced up to 2 eggs at times (when I ran out) with the flax egg recipe below.
How to Make an Easy Flax Egg
Mix together 1 Tbsp Flaxseed Meal and 3 Tbsp Water to form a paste. Let the flax egg paste set in the refrigerator for approximately 15 minutes until it becomes gooey and reaches an egg-like consistency. (If making for 2 eggs: Mix 2 Tbsp Flaxseed and 6 Tbsp Water.) Note: I do not recommend using this recipe to replace more than 2 eggs in a recipe.
[elementor-template id="4372″]
Baby Led Weaning Muffins
Here are some times I find it helpful to serve muffins to my 17-month-old:
Quick Snacks or when on-the-go snacks are needed.
Already Prepped Breakfasts – eggs muffins are especially great, but also other varieties.
When a dessert is going to be served at a social gathering. (At 17 months old, he still doesn't notice the difference IF he likes the food he is being given, so I would rather give him a sugarless muffin than to eat sugar he doesn't even realize is there.)
Savory muffins alongside lunch or soup.
Roadtrip snacks
Honestly, we usually eat the muffin right alongside him so to him, it's just….a muffin!