The 5 Best Learning Towers – 2021 Ultimate Guide
I've been regularly involving my son in the kitchen since he was around 18 months old. And honestly, he's enjoyed watching me cook for much longer than that. But last summer when he turned 18 months I started pining for a learning tower to safely involve him. Learning towers are easily my favorite kitchen accessory for toddlers! They allow a young child to stand at the counter and safely cook with you as they are protected from falling out the sides.
This post contains affiliate links. If you click & make a purchase, I receive a commission! Thanks! Read my full disclosure policy. As an Amazon Associate I earn from qualifying purchases.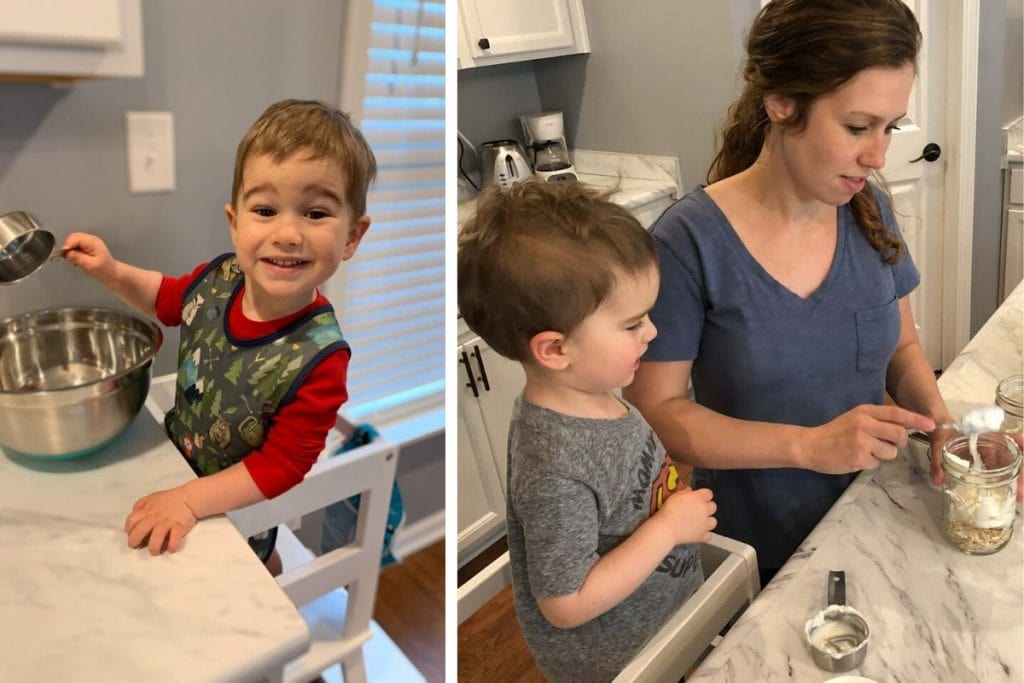 The 5 Best Learning Towers
Small Footprint
Very lightweight at 8.8 lbs making it easy to move around the kitchen
Budget-Friendly
Comes in 3 colors: White, Grey, Natural
Cons: Does not fold down.
We have the SDADI learning tower and love it. I chose this tower due to its small footprint and lightweight structure. I highly recommend it! Here's my review video about the SDADI tower if you have more questions.
Folds down
Adjustable to 3 different heights.
Comes in white or natural as well as a more contemporary design
Comes with a non-slip mat and a "kitchen tower keeper" which is a mesh panel that covers the large opening for smaller tots.
Cons: Weighs 20-21 lbs depending on style.
DO YOU HAVE TWO TODDLERS? This tower also comes in a double version if you are looking for a large tower for two!
Adjusts to 3 different heights
Comes in white or grey
Bottom step folds in making it easier to store.
Small footprint when in use or stored.
Cons: Weighs 18.11 lbs which is over 10 lbs more than the SDADI.
The Original Learning Tower designed in 1992.
Adjusts to 4 different heights
Numerous colors available.
Sturdy build with 250 lb weight limit.
Cons: Very heavy at 28 lbs and does not fold down.
Sold on Amazon Handmade.
Versatile – converts into a table and chair and has a chalkboard.
Bunny and bear designs are available.
Cons: Non-adjustable, somewhat awkward.
What Is A Learning Tower and Why You Need One
A learning tower is a stool with railing built around all 4 sides. It allows a child to safely work at the kitchen counter. There are various types of learning towers, but generally speaking, they have a bar along the backside to prevent the toddler from falling out of the tower. A toddler learning tower can also be called a kitchen helper or a Montessori learning tower and is an excellent way to safely involve your toddler in your kitchen activities.
36 EASY Toddler Snack Ideas
Sign up fo my newsletter and grab my FREE TODDLER SNACK CHEATSHEET so that you don't have to worry about what snacks to feed your kids ever again.
Why a learning tower is better than a kitchen chair or stool
It only took a few scary instances of my toddler falling off kitchen chairs before we decided to purchase a toddler kitchen helper tower and it's easily been my favorite toddler purchase. Toddlers love to be involved in daily activities and chores. Involving them in food preparation when possible is one of the best ways to encourage your toddler to try new foods and feel more comfortable with the foods they are offered.
Step stools can work really well for older kids, but if you want to continue to work in the kitchen and move around comfortably, a learning tower is a must with a young toddler.
The Different Types of Learning Towers
Convertible Learning Tower
Convertible learning towers are 2 in 1 learning towers that also double as a table and chair with one simple fold. When I first started looking into learning towers, we lived in a small apartment and I considered getting this version so that my son would also have a table as well.
Foldable Learning Tower
Some learning towers fold down which would be great if you have a small kitchen and need the extra space when your toddler is not in their tower.
Ikea Hack Learning Tower
If your budget is tight or you like to be handy, this IKEA hack learning tower could be a great choice for your family. However, the Bekvam stool is no longer on IKEA's website so it may be challenging to find one. However, this could certainly provide inspiration for hacking your own Montessori tower either with this step stool or another.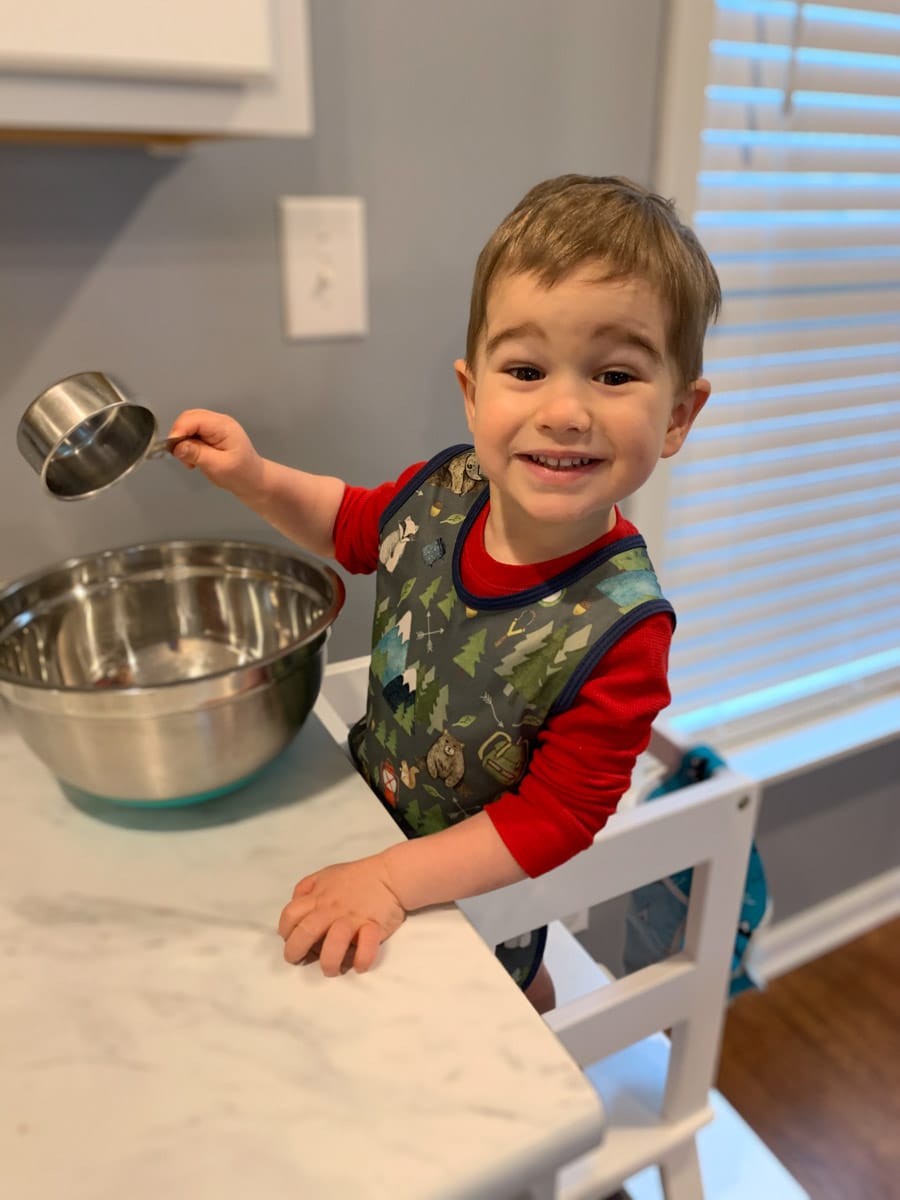 4 Benefits of a Learning Tower
Encourages early learning of kitchen skills. – Learning to cook, prepare food, and wash dishes are no doubt valuable skills. Most toddlers are excited and ready to help you in the kitchen. Having them at counter height certainly makes it easier to show and involve them in kitchen work.
A learning tower is a safer option for toddlers than using a chair or stool. Toddlers do not have great balance and are prone to falling from high places. I know firsthand how scary this can be as it happened to my son several times before I finally decided I should purchase a learning tower!
It can make cooking easier for YOU! – Yep, my tower definitely makes my job easier. Even if I'm not actively involving him in what I'm doing he loves to stand in his tower and watch or play with bowls/spoons.
Kids are more likely to try new foods – Allowing your toddler to help with food preparation makes them more likely to try new foods. Often without prompting, my son will take bites of broccoli while helping me prepare it. This is a food that he otherwise rarely touches on his plate.
When Should You Start Using a Learning Tower
Most learning towers seem to have a recommended age of 18 months – 3 years. This is around the time I started involving my son in the kitchen more and I finally bought a tower around 20-21 months. Looking back, it would have been a great 1st birthday gift even if it took him a few months to really start using it more.
Now at age 2, he is becoming more independent with it and I find he can be entertained a good hour or more if he is "washing" dishes or helping. The tower can be used both to actively help me at this age as I teach him kitchen skills or I can set him up to work on something like dish "washing" on his own while I work in the kitchen without a toddler at my feet!
Are Learning Towers Safe?
As with all things, you should put appropriate safety precautions into practice for your household and children. For example, keeping the tower away from dangerous things such as knives or kitchen appliances. You should come up with your own set of rules regarding your tower, but here are my main two:
We keep the tower in a certain safe spot. In my kitchen, I have a section of countertop that is within reaching distance of nothing from the tower. I have extra counter space so it works well and I can pretty easily leave the space open for him.
My son is not supposed to move the tower on his own. It's safe for him to climb up in the spot I keep it on his own and he knows he is allowed to climb up in it at any point in time. However, if he wants it moved to another location a grown-up MUST be involved.
I have a VERY busy boy at my house. He's full of life, excitement, and dare I say a bit of danger. He does have a tendency to climb various pieces of furniture and other structures throughout our house, but I have set pretty hard rules about not using the tower to climb in the kitchen and it's simply not been a problem for us.
5 Things to Consider When Purchasing a Learning Tower
Where you will keep the tower. – Find a safe spot in your kitchen that you can store the tower. You want it to be convenient enough that you will use it, but far enough away from potential dangers (stove, knives, etc) that your child will not get hurt if they climb into it when you aren't watching. (Because they will!)
The tower's size and footprint. – Some towers are larger than others. I chose one with a relatively small footprint and I'm glad I did. It makes it easy to move around my kitchen and I can leave it out all the time.
Collapsible – Some towers collapse (mine does not.) Are you living in a very small space/kitchen? If so, this may be a feature you'd like.
Adjustable height – Depending on the age range you plan to use it for this could be a helpful feature.
Price – Consider your budget as towers come in a variety of prices depending on brand and features. You can also check Facebook marketplace and yardsales as they are often for sale on these sites!
Other Kitchen Related Gifts for Toddlers
If you're looking for other gifts to involve your kids in the kitchen or spark their interest in food and other kitchen-related things, you will love these other great toddler kitchen gift ideas.