MOM APPROVED Baby Led Weaning Essentials – 2021 Gear Guide
This post contains affiliate links. If you click & make a purchase, I receive a commission! Thanks! Read my full disclosure policy. As an Amazon Associate I earn from qualifying purchases.
This complete guide to Baby Led Weaning Essentials was created by a Registered Dietitian and Mom of 2. All of these products are tried and true and will help you and your little one get off to a great start with baby led feeding!
I started baby led weaning over 2.5 years ago when my firstborn turned 6 months old. I started off with the bare minimum baby led weaning must haves and slowly over time bought more as I felt it would benefit us. I've tested tons of baby led weaning products and am so excited to bring you my complete guide today!
Baby Led Weaning – What do you REALLY need?
Baby gear, like anything, can be as simple or as complicated as you want it to be. Some mommas love all of their baby gear and feel they couldn't live without it. Other parents want to keep it minimal. Baby led weaning doesn't require fancy gear at all! However, since you'll be buying your baby a high chair, plates, and cups regardless, if you plan to start baby led feeding you should try to ensure they are products that encourage self feeding.
The baby led weaning essentials I chose are ones that would lend the baby to being more independent. A high chair that is comfortable and places baby in the correct posture would be at the top of the list. Small cups that baby can hold would encourage them to learn to drink on their own earlier and bowls and plates made for scooping can help your baby feel less frustrated and have more success at the table.
Here are a few baby led weaning products you may want to consider:
High Chair
Bibs
Cups
Plates
Bowls
Utensils
Splat Mat
Books
I'll discuss each one in detail with my favorite recommendations as a Dietitian, Mom, and wife of an Occupational Therapist.
Video Review of Our Favorite Baby Feeding Products
Best Baby Led Weaning High Chair
I wrote a whole post about top-rated baby-led weaning high chairs. Finding a chair that is ergonomic and puts your baby in an optimal position for eating is important in baby-led weaning. My top 3 recommendations for baby led weaning chairs are:
You can see all of the ones I looked at and more about why I chose these highchairs in that article.
Baby Led Weaning Bibs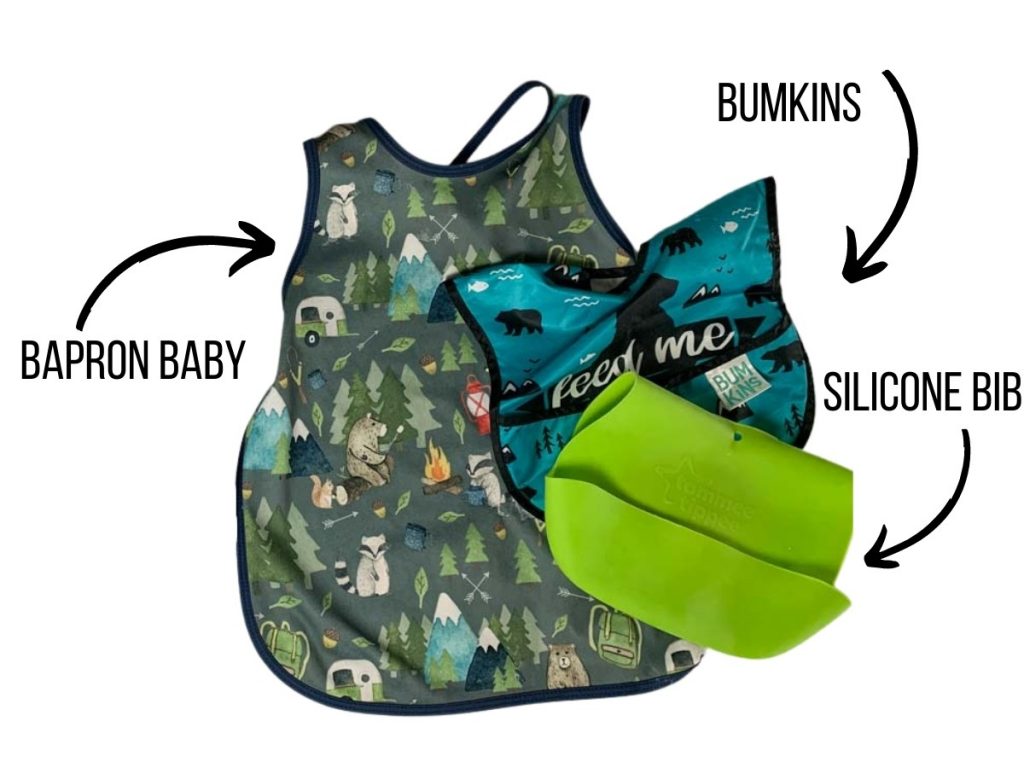 Okay, this is seriously an ESSENTIAL accessory for any baby or toddler – whether you are doing baby led weaning or not.
You can't begin baby-led weaning without a great bib. I have tried so many different styles and my favorites are definitely the ones that are easiest to clean.
3 Must Have Baby Led Weaning Bibs
Bapron Baby – I absolutely love this brand of bibs for baby led weaning! They are softer than many I've tried yet they still wash clean very easily. Plus, they are a little longer, covering more of the baby. They also tie in the back making it impossible for all but the most persistent toddlers to pull off. It's a bit of a splurge as they do cost more than other bibs, but I've bought both of my kids one and love them. Bapron baby bibs come in a variety of prints and they also have a larger toddler size.These bibs also double as aprons and are great for cooking or other toddler activities.
I've had no trouble with these bibs staining – even with foods like spaghetti sauce!
Bumkins SuperBib – Another of our favorite bibs, these also wash clean easily and are the bibs I keep for my diaper bag.
Silicone Bibs – We also used bibs similar to these at home some with my son. They are heavier and thicker, probably less comfortable for the baby. My son never minded wearing them, but my daughter pulls them off immediately which is why I prefer the other 2 kinds for her. However, they are the easiest to keep clean since they never need to go through the laundry.
Many people also like to cover their little ones arms and opt for the bumkins sleeved bibs. I haven't personally tried this kind yet, but know many who like them especially for really messy foods. It might be worth purchasing as it would certainly save some time scrubbing little sleeves!
Baby Led Weaning Utensils
We personally opt to keep our baby utensils pretty basic, encouraging them to use traditional silverware (but smaller in size) early on. However, we did use the olababy 100% silicone spoons initially. Here is a rundown on the popular baby led weaning utensils.
Utensils for Young Babies
Olababy spoons – Although these spoons look a bit funny, the flexible tip allows for easier scooping of foods since it can be scooped from any angle. We purchased these spoons when my son was a baby and they held up perfectly for us through two babies. They are also easier to hold for a young baby doing baby led weaning than many traditional spoons.

Choomee Baby Spoons – Another popular spoon option for your 6 month old who is starting to self feed. Again, these are made of silicone and have a flexible design for scooping.

Grabease Self-feeding Utensils – These utensils feature short easy to grab handles that make it impossible for your little one to stick too far into their mouth. Additionally, the handles are easier for tiny hands to grab.
Realistic Silverware for Toddlers
We have these children's silverware set for my toddler and love the realistic look of them. They are recommended for 24 months+, but we prefer to use them much younger and skip transitional silverware. However, if you are looking for silverware approved for 1 year olds, this might be something you'd prefer.
Baby Led Weaning Cups
Ok, I have a whole post on plastic free cups for babies and toddlers that you might want to check out. However, here are my top recommendations for baby-led weaning.
I've written a whole post about teaching your baby to drink from an open cup + the top open cups on the market if you want more info on that! Or just check out my favorite brand below:
I love the silicone EZPZ tiny cup! It's perfect for little hands and the angle of the cup helps to control the flow as babies learn to use open cups. Additionally, its weighted on the bottom making it less likely to topple. At only 2 oz, it's the perfect size for teaching your baby to drink from a cup.
These were new and in high demand when my son was born, I was never able to get him one as they were sold out so we used glass shot glasses and broke quite a few. This has saved me so much time with no glass to clean with my daughter.
The EZPZ mini cup is the perfect step up from the tiny cup at 4 oz. My daughter just turned 12 months and we are still using the tiny cup, but this one is definitely on my radar and I've considered getting it to transition her up. You can also purchase it with a straw making it a versatile option.
Best Straw Cups for Babies
I love the idea of this cup and training system. Made out of silicone and super versatile as you can also use it as an open cup as well. It's small so it would be perfect for little ones learning to drink from straws as most straw cups are much larger than this.
This set of straw cups is my favorite for toddlers. While they are still a bit large for my 12 month old to handle on her own, she does enjoy using one with help currently.
Best On the Go Cup for Traveling
Once my babies turn one, I start packing them a water bottle for on the go. If we end up dining out while on the road (or picnicking in the car) this allows them to have water sips while they eat.
Foogoo Insulated Straw Bottle – This is my favorite water bottle for travel since it is made of stainless steel (as opposed to plastic) and insulated to keep their water cool in the car in summer heat. My son was able to pop it open on his own around 1 year old, but my daughter is not quite there yet. However, it's not an issue as it easily stays open for the duration of the meal.
Baby Led Weaning Plates
I have one of these Bumkins silicone divided plates for each of my kids and love them, especially when they are in the throw your plate stage. It takes a little more work to get off (my 12 month old has known how for a while) but cannot be simply pushed off the table by younger babies. Plus, the suction allows it to stay still while a child is scooping from the plate compartments. These are hands down my favorite baby led weaning plate.
If you are looking for a non divided plate, this one is my favorite. It's weighted at the bottom and has contoured walls to make it easier for scooping. We also have the OXO Tot Silicone matching bowl (discussed below.)
Baby Led Weaning Bowls
These plates have contoured walls and are weighted at the bottom which make them perfect for scooping. Plus, they are made of 100% silicone so they are unbreakable and plastic free for your little one.
I also purchased some silicone bowls similar to these when my son turned 6 months old. However, it looks like these now come with lids which I love because I'm constantly putting a bowl of half eaten yogurt or soup in the fridge for later.
Baby Led Weaning Mats
A mat to go under your baby's highchair makes for easy cleaning. Simply shake it and wipe it off. These mats are also perfect for painting and other arts and crafts with any age kids.
DIY Floor Mat
My mom simply made us a floor mat by cutting down an old vinyl tablecloth and it has worked perfect! Baby led weaning does not need to be expensive or mean buying an endless supply of products to clutter up your kitchen!
Baby Led Weaning Book
I read several books on baby led weaning and self feeding prior to starting baby led weaning with my son. These were my favorites:
Born To Eat – This book is my favorite that I've read. Written by two fellow Registered Dietitians, I loved their approach and how they walk you through baby led weaning at each stage. The book doesn't have a lot of recipes, but I love how it does offer suggestions on how to serve each recipe depending on the age of your child.
Baby Led Feeding – Baby Led Feeding provided more visuals about cutting food and recipes. This would be a great book to provide more ideas on how to actually go about serving different foods.
Simple & Safe Baby Led Weaning – Ok, I've not read this book just yet. I just discovered it when I pulled the links to the other two and ordered it for my collection. I'm excited because I've read other things from the author (Malina Malkani, RD) and I think I'm going to love this book as well. I'll keep you updated!
Not-So-Essential Baby Led Weaning Accessories
These are admittedly not so essential, but things we use regularly in my house nonetheless.
I put these zip top kids silicone bags in my kids stocking this year and they just love them! But so do I, because they are easy to open and close and a great way to store foods or take snacks/food on the go with them. I try to avoid plastic, especially for my kiddos, and these silicone bags are a great alternative. Plus, they come in a variety of designs and are super cute.
I also love the bumkins reusable snack bags for on the go and have several I use for the whole family (from my baby to my husband!)
I like these silicone placemats for dining out. I use them for my babies and toddlers (when I remember.) I just have super basic ones like these, but I did see another baby out the other day with a fancier one that looked handy. Some fancier models come with a built in bowl and food catcher which could be convenient.
Do you have a favorite baby led weaning product?
Baby led weaning doesn't require fancy products or gear. In fact, one of the great things about it is it can be simpler than using baby food because it eliminates the need to buy or make purees for your little one. However, there are certain products that can simply make our lives easier! I realized this after spending countless hours vacuuming up broken shot glasses when I tried to teach my son to drink from an open cup Montessori style. And I'm so thankful Ezpz came out with their tiny silicone cup!
We are always trying new baby-led weaning gear and would love to hear if you have a favorite product you would like us to review. Comment below with products you love or are curious about!