17 Favorite Halloween Treats for Babies and Toddlers
This post contains affiliate links. If you click & make a purchase, I receive a commission! Thanks! Read my full disclosure policy. As an Amazon Associate I earn from qualifying purchases.
Obviously, candy for babies is a no go. In fact, it's even recommended by the American Association of Pediatrics to avoid sugar and sweeteners until age 2. This can make finding appropriate Halloween treats for babies and young toddlers difficult.
However, with some out of the box thinking you can certainly have some age-appropriate treats (food and not) ready for your smallest trick or treaters. Here are some of my favorite Halloween treats for babies.
Non Food Halloween Treats for Babies
First up is the inedible/nonfood treats for babies. Honestly, babies don't know what Halloween is about, so giving them a fun (but not necessarily food) treat is perfect. Here are a few alternative treat ideas that may work well for you to pass out to babies this Halloween.
A package of these Halloween rubber duckies would be perfect to have on hand to pass out to babies and toddlers in the neighborhood.
Or you could try this pack of 100 Assorted Rubber Ducks if you need more and a better value. Although they are not all distinctively Halloween they would make a fun treat and are appropriate even for babies!
I love this playdough treat bag idea which would work for toddlers who need candy-free or allergy-friendly Halloween treats. It's adorable and you could make your own playdough like One Krieger Chick did or you could buy playdough to put in the bags. This would be a perfect Halloween treat for toddlers in a daycare or preschool.
Speaking of play dough, if you like this idea but don't have time to make the treat bags, simply buy a large pack of mini play-dough to pass out to the littles in your neighborhood.
4. Bubbles
Buy either a pack of regular bubbles like this 12 pack or you could get fun bubble wands to pass out in your neighborhood. While smaller babies can't necessarily blow bubbles themselves they still love to watch them!
These adorable finger puppets are another great Halloween gift to have on hand, not only for your young baby and toddler trick or treaters but also for older kids who may have various food allergies!
These are fun and inexpensive Halloween gifts for babies! Babies enjoy finding their feet and shaking their hands for the rattle.
These adorable wooden teethers are a non-toxic Halloween treat for any baby in your neighborhood, daycare, or family.
8. Stickers
There's no doubt that littles love stickers. Either buy these fun make a face sticker packs to pass out or a simple variety pack of sticker packets that you could also purchase inexpensively at the Dollar Tree.
Healthy Halloween Treats for Babies
Ok, here are some fun edible halloween treats you could have on hand for babies and toddlers!
Make sure you buy unsweetened for babies and littles, but applesauce, fruit, and veggie pouches can be an easy trick or treat idea for any neighborhood babies. They are convenient for parents to take on the go and fun for young toddlers as well.
This is a fun and special snack food for babies and toddlers. The organic yogis are made with yogurt while the Creamies feature coconut milk. I waited until my son was around 12 months to give him anything like this and made it a once in a while food, but they are marketed to crawling babies. He received a similar treat from grandparent's last Halloween and was in love!
3. Fruit
Just some basic fruit can be a great Halloween treat for the babies in your life. If you are passing them out to babies in your neighborhood things like bananas, cuties, or avocados work well since they are naturally pre-packaged. Draw fun Halloween faces on them to make them more festive!
If you are wanting to bake a special treat for babies or toddlers – these no sugar pumpkin muffins are a great choice! Just be sure to leave out the chocolate chips for the littles and these muffins contain no sweetener or sugar (just dates!)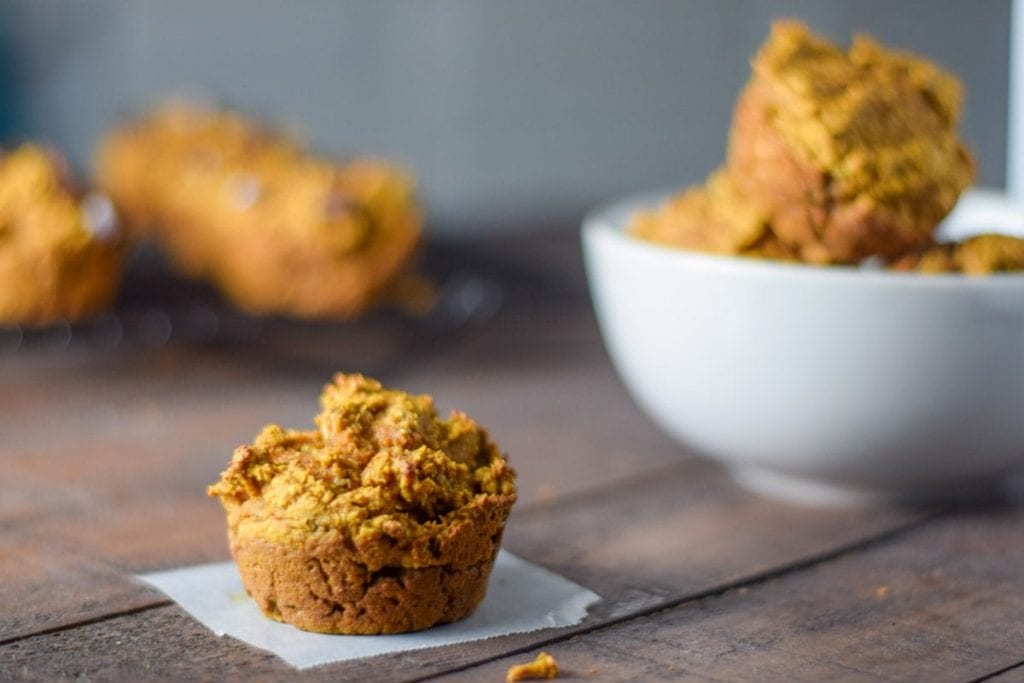 I designed this cookie recipe just for my son when he was 1 year old and we were still avoiding any added sweetener. Sweetened with dates and loaded with goodness (even carrots) – these are a fun snack to make for your kids or other close toddlers for any occasion.
I enjoyed making these mandarin orange Jack O Lantern fruit cups! They are a fun and festive way to serve a Halloween snack to toddlers at preschool, church, or to hand out in your neighborhood.
Other Non Candy Treat Ideas for Toddlers and Older Kids
These ideas may not work best for all babies, but are perfect for toddlers and older kids.
The mini Larabars or regular size will work perfectly. Larabars are made with nuts and dates, so while they are not allergy-friendly, they are definitely a healthy snack. These RX kids bars would be another option, featuring oats, dates, egg whites, coconut oil, and strawberries.
Raisins are another great naturally sweet option that is easy to find in small snack pack sizes.
If you are looking for something for toddlers and kids in your neighborhood that is truly more of a treat than raisins, fruit, or Larabar, but still not quite candy, these YumEarth Fruit Snacks might be just what you are looking for.
How to Handle Halloween and Candy with Toddlers (and Babies)
Mama Knows Nutrition has a great article broken down by age on how to handle Halloween with your toddlers and I definitely recommend reading it. We avoided sugar (and sweeteners) with my son until he was 2. Since he is the oldest, it was easy to avoid it with him. We offered naturally sweetened treats like fruit, larabars, and pumpkin muffins when others were enjoying treats and he literally did not notice the difference.
At around 2, toddlers are more aware of what others are eating and whether or not they are offered or allowed any. Therefore, research has shown it is best to avoid sugar before 2, but not after 2. As parents, I believe it's our job to introduce sweets and teach how they are part of a healthy diet. This is why it's important to establish your personal/family boundaries prior to any given situation. Hopefully, Mama Know's Nutrition's article will help you come up with a gameplan that works for your family.
If you have a favorite candy free or healthier Halloween treat for babies or toddlers, please leave it below in the comments.
[elementor-template id="4957″]