14 Foodie Gifts for Toddlers and Babies
This post contains affiliate links. If you click & make a purchase, I receive a commission! Thanks! Read my full disclosure policy. As an Amazon Associate I earn from qualifying purchases.
Is there a toddler or baby in your life that you simply don't know what to buy for? Many kids naturally love being involved in the kitchen from a very young age. These non-toy gifts for toddlers will give you practical kitchen-related gift ideas for the littles in your life. Toys are great, but they pile up fast, and many of these kitchen gifts for toddlers and babies can help you create special moments in the kitchen teaching the little one you love nourishing habits to last them a lifetime.
14 Dietitian Picked Kitchen Gifts for Toddlers
Non-Toy Kitchen Gifts for Toddlers and Babies
This learning tower/kitchen helper is perfect for my son who is currently 22 months. We bought it about 1-2 months ago and honestly wish I would've got it closer to 18 months. It is SO much easier and safer than trying to use a chair, and if I'm in the kitchen he wants to be helping. He could happily spend hours standing in it – doing dishes, helping wash veggies, make sugar free pumpkin muffins or his favorite energy balls. He can easily climb into it himself and it's not as clunky as some models I've seen. The same stool also comes in natural and black colors.
My son is definitely more likely to try new foods while helping in the learning tower and munches on foods he does not always choose at the table! Of all the kitchen gifts for toddlers, this is hands down my favorite.
These glass cups make a perfect gift for any family that is trying to limit plastic exposure (which is actually a recommendation of the American Association of Pediatrics now.) My son loves that they look more like the cups my husband and I routinely use (which are these Ello Devon glass tumblers.) As long as you use the leak-proof seals that come with them they are really great about not leaking. These cups are very durable as they have been dropped many times and have yet to break!
I bought this plate when Baby R had just started eating after trying a cheaper brand initially. I love that it suctions to the table/high chair tray, but without having the outer edge that some plates have. Even after he figured out how to pull it off the tray (which happened pretty fast), I find that it being grippy helps him scoop up foods like peas on to his utensils without moving the plate.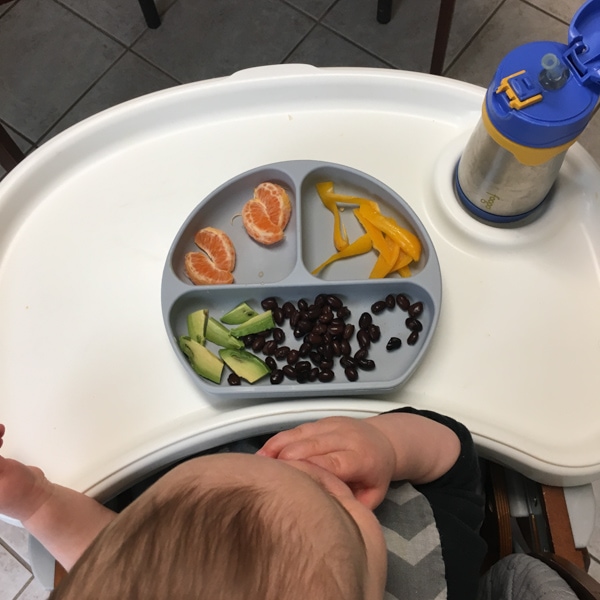 This stainless steel snack cup gets a lot of use at our house. I love that it comes with a lid that can be used for on the go and diaper bag storing. Definitely a fun and useful food gift for any toddler or babe.
[elementor-template id="4372″]
5. A Fun Apron for Cooking or Pretend Play
This adorable waterproof apron, which comes with cookie cutters, a cookie utensil set, potholder, and oven mitt, would make a perfect gift for any little girl.
There aren't as many options for aprons for little boys, but I'm sure any young boy would love these waterproof puppy aprons. Plus, they would work for girls too and come in a set of 2 for a friend or sibling to cook as well!
6. Cookie Cutters of Favorite Animals, Shapes, or Holiday Related
Cookie cutters can be used for more than just making cookies (although that is a perfect use, too.) They can be used for cutting sandwiches, shaping pancakes, crafting, and more. They are one of those gifts that can easily foster family time.
This large 101 piece set by Wilton includes the alphabet, numbers, and holiday shapes and would be a great gift for a toddler learning numbers or letters.
This highly rated Christmas cookie cutter set would be perfect for the popular tradition of baking Christmas cookies!
These smaller cookie cutters are perfect for cutting fruits, veggies, sandwiches and other shapes and would be easier for little hands to grab as well.
7. Silicone Popsicle Molds
We have this same freeze pop mold (but in bear shapes) that I picked up last year at TJ Maxx. They are handy in that only 2 popsicles are frozen together in each set (making it convenient for freezing leftover smoothie that wouldn't fill up a larger set) and pull out of the mold easily.
We don't have a kid-safe knife set yet but this is great for an older toddler. Many moms I know like the Curious Chef set.
I literally just ordered this wavy chopper knife, so we haven't got to experiment with it yet. The wavy chopper knife is perfect for cutting things like avocados for babies to make them easier to grip. It's also good for older toddlers to experiment with. Plus, any kid may find certain foods more fun (and edible) if they are cut wavy.
Toy Kitchen Related Gifts for Toddlers and Babies
Involving your little one in the kitchen will no doubt make them more interested in kitchen-related pretend play!
10. Kitchen and Food-Related Duplo Sets
My son has been playing with my old 1992 Grandma's Kitchen Duplo set nonstop for the past 3 weeks since we brought it back from my parents' house. Apparently Duplo doesn't make just a kitchen set anymore?! However, this Duplo house does have a kitchen in it with some of his favorite features (kitchen table, chairs, tea kettle.) Though, I have to say I prefer the separate set which does seem to have more kitchen equipment and accessories (opening fridge, sink, pot, etc). Either way, this is still a great way to introduce kitchen-related pretend play to your little one! Our Duplo kitchen/house is the most popular toy here right now. We are building houses and kitchens ALLLLLL day long.
I'm adding this Duplo farmers market to my list for my son. I think he would have a lot of fun with this set since it has the food, car, and encourages the mindset of shopping for veggies, etc from a local source! A few similar grocery shopping sets include Duplo My First Supermarket and the larger Duplo Market Place.
I have yet to buy my son a play kitchen, but I have loads of memories playing with my Little Tikes set and can't wait to pick one out for him or our daughter on the way. I am considering something similar to this KidKraft one or perhaps the one at IKEA (have you seen the IKEA kids kitchen hacks on Pinterest they make it adorable!?) My son already loves playing with my old set at his grandparent's house so I know a play kitchen is already a hit with him too.
Again, we don't have this exact set, but we do have some play pots, pans, and dishes that get played with nearly daily.
Kitchen Gifts for Families (that the Toddlers will Love!)
Our 1 year old LOVES to help spiralize veggies and I love our Mueller Spiralizer. In fact, this summer when zucchini was in season he would happily help turn the knob while simultaneously eating the zucchini. Getting him actively involved in the kitchen definitely encourages him to eat and try fresh produce that he may otherwise be leery of if it were simply put on his plate.
Making homemade frozen yogurt or ice cream is something the whole family can enjoy and take part in. I've personally been eyeing this Cuisinart ice cream maker for a few years. Actually, my toddler loved helping his grandpa put the ice in his ice cream machine all summer, so perhaps an old fashioned machine would be more enjoyable for a toddler! ??‍♀️
[elementor-template id="4372″]